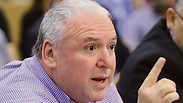 MK Amsalem
Photo: Alex Kolomoisky
Proposed bill forbids police from recommending indictment
MK Dudi Amsalem to present bill forbidding police or other 'investigating authority' to recommend indictment to prosecution, instead only delivering evidence of case without comment; current police protocol states press release on cases of public interest will comment on possible indictment recommendation.
MK Dudi Amsalem (Likud) is drafting a private member's bill stipulating that when police conclude their investigations into a case they will no longer attach a recommendation whether to indict the suspect, instead opting to let the State Attorney's Office decide on the matter independently.

Amsalem's bill further decrees any investigator to deviate from this protocol will face up to a year in prison.

The debate on whether police should recommend the prosecution indict a suspect or merely forward them the investigation's findings has been raging for years.

The police itself decided in the past—after many grumblings from politicians who were on the receiving end of said recommendations—to change its own standard operating procedure and present the investigation materials without comment. This norm eventually fizzled out and they once again recommended whether to indict.

According to current procedure when police conclude an investigation into a matter of public interest, police spokesmanship notifies the public of its conclusion and the forwarding of the case to the prosecution, which decides whether to indict.

Nevertheless, when the police is of the opinion the evidence in a case is solid, a comment will usually mention the investigators believe the suspect should be indicted.

An ever increasing number of investigations into the affairs of politicians and other public figures served as backdrop for Amsalem's bill. He intends to present the bill—officially dubbed "Adding article 61a to the Criminal Procedure Law: forbidding recommendation or statement of opinion by an investigative authority"—as soon as the Knesset's winter session begins.

His proposal refers to recommendations made by other investigative bodies other than the police as well. "When investigative materials are handed over to prosecution by the police or another investigative authority authorized to investigate offenses, said authority will not attach a statement of opinion or recommendation on whether the body of evidence suffices for indicting the person in question," Amsalem's bill decrees.

MK Amsalem railed against the police's aforementioned procedure, complaining that when it recommends indicting, he complained, it precludes the State Attorney's Office from reaching a different conclusion.

"The police should investigate, not recommend. Oftentimes they fall in love with their own cases, so what can you expect? How can they not recommend an indictment then?" he wondered.

The prosecution should be in charge of deciding to indict, he maintained. "Police aren't a party to this discussion. Why should it recommend anything to begin with? It's not in any law. When a police recommendation to indict is made public, the suspect automatically becomes a defendant. Sometimes the prosecution takes a year or two to move forward, but as far as everyone's concerned the person's already guilty," Amsalem lamented.

This is not the first time MK Amsalem has clashed with the police. This past May, after Police Commissioner Roni Alsheikh recommended to enact a law that would require all deputy commissioners to undergo a polygraph test, Amsalem said this idea should be taken a couple of steps further, withh all 1,600 of the police's investigating officers undergoing the test.