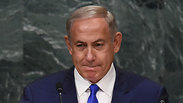 Netanyahu to UN: Change Iran deal or cancel it, fix it or nix it
PM tells General Assembly 'Iranian curtain is spreading across the Middle East'; vows Israel will 'defend itself with the full force of our arms and full power of our conviction;' tells Iranian leader: 'The light of Israel will never be extinguished.'
Prime Minister Benjamin Netanyahu told the United Nations General Assembly Tuesday Israel's enemies "put themselves in mortal peril," vowing his country would "defend itself with the full force of our arms," before calling on international community to 'fix or nix' the Iranian nuclear deal.
Kicking off his speech by cataloguing the numerous fields in which countries are cooperating with Israel, including cyber security, water and technology, Netanyahu proudly proclaimed from the poduim that his country was in the midst of "a revolution, a revolution of Israel's standing among the nations" which he attributed to the fact that "so many countries around the world have finally woken up to what Israel can do for them."
Those countries, he proudly proclaimed, "also recognize Israel's exceptional capabilities in fighting terrorism...We have saved countless lives. You may not know this but your governments do."
Prime Minister Netanyahu's UN speech (צילום: רויטרס)
Turning his attention to Iran, the prime minister criticized the nuclear deal signed under former president Barack Obama's leadership, echoing statments he made during last year's General Assembly speech that rather than blocking Iran's path to the bomb, "it paves it."
Iran, Netanyahu said, "will be able to make many bombs by keeping the deal."
Pledging that he would never allow Iran to gain a military foothold in Syria or Lebanon and position itself to strike at Israel's northern border, the Israeli premier said that he had a message for the Iranian supreme leader, the "Iranian dictator."
"The light of Israel will never be extinguished," the prime minister emphatically declared to the sounds of a rapturous applause.
"Those who threaten us with annihilation put themselves in mortal peril. Israel will defend itself with the full force of our arms and the full power of our convictions."
Promising Israel "will act to prevent Iran from producing deadly weapons in Syria or Lebanon to use against us," Netanyahu issued a stern warning to the international community that an "Iranian curtain is spreading across the Middle East."
Netanyahu then addressed the Iranian people directly, saying in Persian: "You are not our enemy; you are our friends."
"One day, my Iranian friends, you will be free from the evil regime that terrorizes you, hangs gays, jails journalists, tortures political prisoners, and shoots innocent women like Neda Sultan, leaving her choking on her own blood on the streets of Tehran," he continued. "I have not forgotten Neda. I am sure you haven't either.
"And when that day of liberation finally comes, the friendship between our two ancient peoples will surely flourish once again."
The prime minister raised the issue of the "sunset clause" of the Iranian nuclear deal, highlighting it as the most pernicious component which will, he said, in a few years see the lifting of all restrictions on Iran, not by dint of an improvement in its "behavior" but simply "by a mere change in the calendar."
"I warned that when that sunset comes, a dark shadow will be cast over the entire Middle East and the world, because Iran will then be free to enrich uranium on an industrial scale, placing it on the threshold of a massive arsenal of nuclear weapons," he said.
"That's why I said two years ago that the greater danger is not that Iran will rush to a single bomb by breaking the deal, but that Iran will be able to build many bombs by keeping the deal," he repeated.
"Now, in the last few months, we've all seen how dangerous even a few nuclear weapons can be in the hands of a small rogue regime.Now imagine the danger of hundreds of nuclear weapons in the hands of a vast Iranian Islamist empire, with the missiles to deliver them anywhere on earth."
Citing the example of North Korea, Netanyahu predicted that if the sunset clause was not addressed, "if nothing canges, this deal will turn out exactly the same way."
Above all," he told his listners, "fixing the deal means getting rid of the sunset clause."
Netanyahu went on to reiterate what he had posted in a tweet just hours earlier following President Donald Trump's General Assembly speech in which he denounced Iran as a "rogue state" and a "murderous regime."
"In over 30 years in my experience with the UN, I never heard a bolder or more courageous speech," Netanyahu said, before furnishing praise on Trump for being the first ever acting US president to visit the Kotel.
"President Trump stood at the Western Wall...where the Jewish people's temples stood for nearly 1000 years and when the president touched those ancient stones he touched our hearts forever," he said.
Ridiculing a recent resolution declaring Hebron's Old City—and with it the Cave of the Patriarchs—as a Palestinian World Heritage Site, Netanyahu derided it as "worse than fake news. It's fake history."
Inserting humor into his speech, Netanyahu mocked the UN's decision to adopt a Syrian-sponsored resolution that criticized Israel for health conditions on the Golan Heights, quoting the famous phrase of former US tennis star John McEnroe: "You cannot be serious."