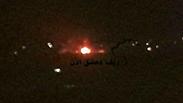 Airstrike near Syrian airport
Two rockets hit near Damascus airport at dawn on Friday, Lebanese TV station al-Mayadeen reported, in an attack it said had probably been carried out by Israeli warplanes from outside Syria's borders.

The attack was apparently carried out outside the Syrian airspace and was aimed at an area that was attacked in the past by the Israeli Air Force as part of their efforts to thwart arms shipments from Iran to Hezbollah forces in Lebanon.

No casualties were reported, but damage was caused.




On the popular Facebook page "Damascus Now," which is considered to be very close to the Syrian regime, it was claimed that "a hostile missile fell at a military target near the Damascus International Airport." The page's moderators posted a message of reassurance and noted that the activity at the airport is continuing as usual.

The Facebook page "Damascus Suburbs Now," which is affiliated with the Assad regime, quoted sources who reported on a fire that broke out at the scene of the strike, and on fire crews who were called in to put it out.

The Facebook page posted pictures that ostensibly document the fire that broke out following the attack.

On the Facebook page of the National Guard for the Defense of the Homeland, which is fighting alongside Assad's forces, their correspondent reported that "an area near the Damascus International Airport was attacked by a hostile missile."

Other social media accounts reported that Syria's air defense system had responded to the attack, adding a video showing the launch of a missile at a plane, but the credibility of the documentation was questionable.

The website claimed that sources in the Syrian army stated that there was no damage to the airport.

Footage of fires following Israel-attributed airstrike attack near Syrian International Airport, April

If confirmed, this would be the second Israeli airstike on Syrian territory within just over two weeks, after the attack on state's Scientific Studies and Research Center (CERS) near the city of Hama earlier this month, which is responsible for research and development of nuclear, biological, chemical and missile technology and weapons.

It would also be the second attack near the Syrian International Airport attributed to Israel, the previous one taking place in April, aimed at Iranian weapon shipments to Hezbollah.