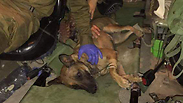 Paratroopers and the injured dog
Israeli paratroopers who remained in their base during Rosh Hashanah kicked off the new year Thursday with a good deed: saving the life of a Belgian shepherd dog who was hit by a car.

The soldiers, serving on the Gaza Strip border, noticed the dog lying on a road near the border bleeding from several wounds, after apparently being involved in a hit and run accident.

Placing the dog in their Battalion Aid Station, she was given urgent medical care by the corps' medics, who were able to stabilize her condition.

However, while treating her they found the dog to be suffering from internal bleeding, which prompted them to contact residents of nearby Netiv HaAsara, who, in turn, put them in touch with the "Let the Animals Live" non-profit organization.

Assaf, a paratrooper paramedic, wished to thank a volunteer from the organization who came to their base to pick the pooch up.

"She took the dog for aftercare and supervision at the University Veterinary Hospital in Beit Dagan, since we couldn't leave an operational sector," he said.

The dog was found to be implanted with an electronic chip, but it was imprinted with the details of her previous owner. When she was taken to the Beit Dagan facility, her current owner was tracked down and she was returned to him.

"A new year with new beginnings, good tidings and good deeds. We have an amazing people," said Ronen Azran of Sderot, the prodigal dog's owner.

"Just when a new year started, IDF soldiers—the very same people who keep us safe all year round and are the impregnable wall of Israel's defense—found our wayward family dog. I can't find the words to describe what we felt. This is proof positive of their humanity, morality and virtues. I wish to thank them again, and wish a happy and quiet new year to all IDF soldiers and all of Israel," he concluded.

"The soldiers saved the dog's life. They dropped everything—on erev chag, no less—to help an animal in need. It's an immense source of pride for us to have soldiers manning the Gaza border who have no qualms about lending a helping hand even in instances like these," said a Netiv HaAsara resident who assisted them.