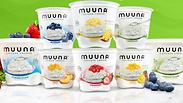 A year after Tnuva launched Muuna, its cottage cheese brand in the American market, it will now be stocked by the world's largest retailer, Walmart.

Muuna's products will only be initially available at the retail juggernaut's 150 northeastern US locations, starting October. Expanded availability is planned for a later date.
A billion dollar market
The cottage category in the United States is worth more than a billion dollars, a sum equal to more than half of the sales of Israel's entire dairy product market—estimated at eight billion shekels.

Unlike the Israeli market, however, where Tnuva is responsible for the lion's share of cottage cheese sales, the US market lacks any central producer and sales are thus distributed between several manufacturers.

Tnuva intends to utilize this fact to its advantage in order to grab a more sizeable market share for Muuna, its American brand.

Before the deal was made for Walmart to stock Muuna, the Israeli cottage cheese was available at several retailers, including "ShopRite"—New Jersey's largest chain with 300 branches—"Stop & Shop" and the "Giant" chain.

At this stage of operations, the cottage cheese product is still in its introductory phase, which requires massive marketing investment.

Tnuva marked a NIS 9 million loss in the first quarter of the year due to its American operations, making its Walmart access a particularly strategic move for the company due to Walmart's perceived preeminence.
Cottage cheese with mango
Unlike Israel, where Tnuva's cottage cheese is marketed in medium-sized packages of 250 grams, Muuna is marketed in the US both in large packages—ranging from 450 grams to 1 kilo—and in personal 150-gram packages.

In fact, the Muuna brand already holds a steady second place in the personal package category.

Furthermore, in Israel cottage cheese is only sold in its plain, classic version and attempts to market other toppings and additions with it have failed. In the United States, however, Muuna markets the cheese with different fruit toppings such as blueberries, pineapple, mango, strawberry and peach.

This move received widespread media attention, and the Wall Street Journal newspaper even christened cottage cheese the "next big thing" to follow Greek yogurt.

Muuna CEO Gerard Meyer said cottage cheese sales have been significantly higher in the past, but have eroded over the years since the category was unable to offer the consumer any innovation, thereby losing out to a yogurt category that kept reinventing itself with new flavors, packaging and on-the-go eating solutions.