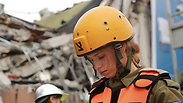 Israeli soldiers receiving acclaim in Mexico
The Israeli emergency delegation to Mexico, assisting in rescue operations following the earthquakes hitting the country, has been receiving rave reviews from the Mexican public.

The soldiers, clad in olive-colored uniforms, created quite a stir on local social media, complete with snapshots surreptitiously taken by secret admirers.

One of the admirers affixed one such photo with the caption, "These are rescue services I'm willing to spy on."

"I'll be happy to be rescued by him right now!" tweeted another user in response to a photo of a male Israeli soldier.

The female soldiers also didn't go unnoticed by the Mexicans. "I'm willing to bury myself under the rubble if it means I'll be rescued by her," said one tweet.

"Tell the Israeli savior to check the wall in my apartment, stat!" said another.

For their part, the soldiers, whose photos were paraded all over the web, were flattered by their new admirers' compliments but stayed focused on the importance of their mission.

"We touched down and I saw how much good we were doing. It's impressive to see how much the Mexican people have embraced us," said Captain Hay Netzer, company commander of the Shachar regiment, which participated in the rescue operation.

Captain Karin Kvitca Huberman was also moved. "As a population behavioral officer, it's a privilege to see the Mexicans joining and contributing to the rescue efforts. They teach us quite a bit about how a community is supposed to act during times of crisis," she said.

"I'm proud to be part of the rescue delegation. The importance of our work here really resonates and the feedback we get from the local populace is indescribable," concluded Lieutenant Sahar Bachar.