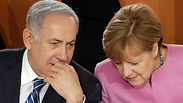 Netanyahu and Merkel meet in Berlin (file photo)
Photo: AFP
Netanyahu tells Merkel concerned over rise in anti-Semitism
As the Israeli PM falls short of mentioning Alternative for Germany (AfD) by name, Holocaust survivors in Israel are shocked and worried by the nationalist party's success: 'It's like cancer spreading, it's shocking that it's happening in Germany.'
Prime Minister Benjamin Netanyahu told German Chancellor Angela Merkel on Tuesday Israel was concerned over a rise in anti-Semitism after a right-wing nationalist party won seats in Berlin's parliament.

"Israel is concerned over the rise of anti-Semitism in recent years among political elements from the right and left, as well as from Islamist elements," Netanyahu's office quoted him as saying in a phone call with the German leader.

While Netanyahu seemed to be referring to the results of the Sunday general German election, the Israeli leader stopped short of naming the Alternative for Germany (AfD) party, which won about 13 percent of the general vote—the best showing for a nationalist force since World War II.

In his conversation with Merkel, Netanyahu "called on the new government that would be formed to act to strengthen the forces in Germany that accept the historic responsibility" of the Holocaust, his office said.

"Israel rejects any attempt to deny the Holocaust," Netanyahu said, noting that Germany also remained responsible for the historic event.

"There are two things—Holocaust denial, and denial of the responsibility," he said.

Key members of AfD have challenged Germany's culture of atonement over World War II and the slaughter of six million Jews in the Holocaust.
'Like a cancer spreading'
Holocaust survivors living in Israel said they were shocked and worried by AfD's success.

"We have an enemy in Germany," said Saul Oren, a former inmate of Auschwitz and Sachsenhausen concentration camps who moved to Israel in 1968.

"I am worried but nothing can be done to prevent this from happening in Europe," he told AFP.

"I am very shocked," said 86-year-old Berthe Badehi, who was in hiding throughout the Nazi occupation of France.

"It's like cancer spreading, it's shocking that it's happening in Germany," she told AFP.

She said it was a reminder of the fear she felt when she encountered German soldiers as a child.

"When I heard the results I recalled it," she said.

The New York-based World Jewish Congress (WJC) said anti-Semitism was on the rise worldwide.

"It is abhorrent that the AfD party, a disgraceful reactionary movement which recalls the worst of Germany's past and should be outlawed, now has the ability within the German parliament to promote its vile platform," WJC president Ronald Lauder wrote on its website.

Germany faces its "biggest challenge" since the birth of the federal republic in 1949 with the entry into the legislature of "a party that tolerates far-right views in its ranks and incites hate against minorities", the Central Council of Jews in Germany said.

Zionist Union MK Tzipi Livni, who served in the past as foreign minister and justice minister, called on moderates around the world to unite against "the rise of extreme right-wing neo-Nazi parties."

Labor MK Amir Peretz called it "a dark day for German democracy with the entry into the Bundestag of a racist and anti-Semitic party."

Netanyahu, meanwhile, stayed positive. "Congratulations to Angela Merkel, a true friend of the state of Israel, for her re-election as German chancellor," he wrote on his Facebook page.

"Wishing continued success to our friend and ally," deputy foreign minister Tzipi Hotovely, of Netanyahu's right-wing Likud party, said in a Twitter message to Merkel.

More than 70 years after the Holocaust the killing of European Jews still runs deep in relations between Israel and Germany, one of its strongest EU supporters.