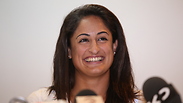 Gerbi announced her retirement at a press conference Monday
Photo: Oren Aharoni
Judo Olympic medalist Gerbi announces retirement
Yarden Gerbi—who won a bronze medal at the 2016 Rio Olympics—announces retirement from judo in special press conference, citing no longer being able to find the motivation to compete; 'Fire inside me has gone out'; OCI Director General: 'Yarden has gone down in history books.'
A little more than a year following judoka Yarden Gerbi's bronze medal win at the 2016 Rio Olympic Games, the beloved Israeli athlete announced her retirement from the sport at a special press conference Monday.

"Following a period of deliberations, where I didn't get much sleep—as the people close to me can attest—I have decided to retire from judo. The fire inside me has gone out," said Gerbi, who's only 28 years old.

"I'm proud of myself, of every goal I set and on my road to achieving them, which was always uncompromising. I'd like to thank Shani (Hershko, Gerbi's personal trainer and coach for Israel's national judo team—ed.), who is the person who's closest to me, an overachiever, a professional and has always stood by me no matter what," Gerbi continued.

Gerbi also recounted how her passion for judo was initially kindled. "When I was three, I watched the Barcelona Olympics with my mom and asked her how you can buy a ticket to the Olympics. She said you couldn't, you can only get there with hard work. That's when my love affair with judo started," she described.

"I've been on this whirlwind rollercoaster called judo for the past 22 years. Throughout my entire career, I've never given up. I was only 19 when I won my first medal in a major tournament. I've won many others since and became the first Israeli to win the judo world championship. The Olympic medal made me feel complete. It gave me eternal bliss," Gerbi shared.

"I took some time off, recuperated and had elbow surgery on a nagging injury that's been bugging me for the past two years. When I came back to training a fire burned inside me. I went through training camp and it was the best I've ever had. I was pain-free. The longer I trained, though, the more I felt the fire inside me die out. As someone who leapt from bed to go train, I just felt it wasn't the same anymore," she ruefully said.

"I don't point to the flag whenever I win for no reason. I'm totally proud of my country and in representing it. After 22 years, I'm beginning a new journey. I don't know what exactly that will be yet. I'm considering opening a judo club for kids in Netanya," she added.

"When you have a goal, you're motivated. Once I got back to a two training sessions a day routine, it was insane. If I just chose judo over everything else up until now, my priorities suddenly changed. I didn't want to maintain the strict diet, for example. I just didn't have it in me to fight off this feeling anymore, until I asked Shani for a break. I don't see myself getting this motivation back," the retiring judoka said.

"I'll get up tomorrow and I have no idea what I'm going to do. Simply no idea. I'm 28 years old and I don't know where I'm heading. This step scares me, but I'm going there wholeheartedly. As an athlete, I've been through everything—injuries, and the highs and lows of the sport—but when I can't get motivated I can't train. When I was in Rio, I knew there's no way I was leaving Brazil without a medal. Simply no way. I'm an all-or-nothing sort of person, which is why I find I can't go on now. I can't 50-50 anything," she concluded her remarks.

Hershko, who doubles as Gerbi's trainer and as coach for the national team, spoke about the accomplished athlete's impending retirement from the sport. "I'm completely at peace with Yarden's decision. It's not easy, but she grew up in an environment where you simply can't go forward without being 100 percent committed. She made a decision that's somewhat unusual in Israeli, and even world, sports. Athletes often don't know when to retire. There were several things she could've still accomplished on a professional level, but like I said, if her heart wasn't into it she couldn't have went on competing," he lamented.

"Yarden is an amazing athlete and an amazing person. This is undoubtedly a sad day for me. I hope judo continues playing a major role in her life," added President of the Israel Judo Association Moshe Ponte.

Secretary-General of the Olympic Committee of Israel Gili Lustig attended the press conference as well. "I had hoped despite all the rumors surrounding her announcement and everything that's been written, that this wouldn't be what she says. I'm also immensely saddened by this news. What athletes are motivated by is going down in history books, and Yarden has done that, several times over, in a highly competitive field. What she's doing today is amazing—the integrity of coming forward and saying she can't do this anymore," he said.

Gerbi won a bronze medal in judo at the 2016 Rio Games. She was also crowned judo world champion in her weight class in 2013, was a runner-up in 2014 and achieved three medals—one silver and two bronze—in three different European championships.

This past February Gerbi underwent elbow surgery, which sidelined her for several months and made her miss the most recent European championship, held in Israel two months following her operation.