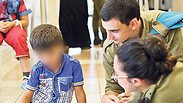 Syrian child in Israeli soldier with IDF soldier
Photo: Elad Gershgoren
How Operation Good Neighbor has brought Syrians from loathe to love
IDF Lt. Col. explains how Israel's ability to show a more benign face through humanitarian efforts in treating wounded Syrian children will transform civilians into ambassadors; 'The citizens on the other side realize that Israel saves their children's lives, it'll will be hard to convince them we want to destroy them.'
At first they sat quietly, too scared to even utter a word. Twenty-three sick Syrian children, tired and exhausted from a sleepless night, from a meeting in the middle of the night with soldiers from the IDF; soldiers who were armed with weapons, soldiers who helped them cross the border into Israel.

The fear was evident in their faces, but within a few minutes it is replaced with laughter. Johnny Havis, a medical clown, plays up-beat music and invites them to dance. "Abra Cadabra!" He says, and makes his red nose disappear. The doctors, nurses and soldiers of the "Good Neighbor" operation walk around smiling and handing out chocolates.

Four hours earlier, at 3:00am, IDF soldiers gathered at the border between Israel and Syria as part of the Operation Good Neighbor. Captain Oz Meshulam of Nahal Brigade faced the soldiers of the special force accompanying the operation and gave out instructions.

"The threats from our point of view are explosive charges and shooting," he said. "We must be alert."

After the vanguard forces made sure the road is clear and safe, the soldiers continued toward the border. On the other side were 20 anxious mothers. The little children were clinging to their long dresses, and there were babies in their arms. One by one they passed the soldiers' inspection.

From then on, within 24 hours, the alienation gave way to familiarity, and the fear of security and the remnants of rooted hatred, was replaced with gratitude.
The security interest
"The Good Neighbor Operation started about a year ago," explains Lt. Col. A. "Our understanding is that it also serves a security interest, since when the citizens on the other side realize that Israel cares for them and saves their children's lives, it will be hard for anyone to convince them that we are the enemy who wants to destroy them."

Since the operation's establishment a year ago, more than 3,500 Syrians have received medical treatment in Israel and have returned home. Once a week, women and their children are transferred to hospitals in Israel, and the IDF distributes to them clothes, food, medical equipment and medicine.

"It is at this time when they understood that we are not the devil, as they have been taught all these years," Lt. Col. A. notes. "Later they will also be our ambassadors, and I am sure that a child who's life is saved by us today will tell his children about it, too."

Lieutenant Colonel A., a married man and father of three, expresses his sympathy towards the Syrian refugees.

"I see a 3-year-old boy with torn pants, no shoes. I then see my children, right in front of my eyes," he says. The division commander then took out his personal credit card and told me, "these children do not return to Syria without shoes and clothes. Every one of these children returns home with an Israeli bag of flour, sugar, cooking oil, clothes, diapers, milk substitutes and medicine."

It's now 7:20am. The mothers and children arrive at a special hospital ward that had been specially prepared for this.

G., a Syrian doctor who accompanies them, relates that almost all the doctors in Daraa and Quneitra either fled or were killed.

"We have no more hospitals," he says. "Every one of them was hit."

In their first moments in the reception hall, the children are worried, reserved. Johnny Havis springs to action and starts playing music and making them laugh. Within minutes, the children begin to smile.

Nur (a pseudonym, like all the Syrian names in this article), a 10-year-old girl, came here for a second visit. She is expected to have a catheterization after she was diagnosed with a heart defect on a previous visit. Next to her is Amal, 3, who is blind from birth.

"She really likes to sing and dance," says her 25-year-old mother. "The first time we arrived, it was at night. We saw soldiers with weapons, it's scary, but from the moment we got to the hospital and saw the reception, I calmed down."
Stay for the night
Nine-year-old Jamila, wearing jeans with gleaming sequins and a purple flower pin in her hair, is sitting surrounded by her five brothers and three sisters, happily eating chocolate.

"It's tiring," she says, nursing an injured leg. "But it's fun. I especially like the clown."

"At first I was afraid of the soldiers," she admits. "It was very scary to walk in the dark and suddenly see the soldiers with their weapons standing in front of us."

Her brother Bashir, 8, smiles. "I was not at all afraid of the soldiers," he says.

Dr. Michael Harari sits in one of the examination rooms in front of a broken and worried mother. On her knees lies the sleepy head of a tiny girl with honey-colored curls. Her name is Yasmin, and she suffers from repeated attacks of shortness of breath.

"It is very possible that there is one explanation for all her problems, but there may be different factors," explains Dr. Harari. "To find the reason we need to do an X-ray, liver ultrasound, blood tests... The simplest way is to do all the tests while she is admitted. I recommend that you not return to Syria tonight."

Tears well up in the mother's eyes.

"I understand the difficulty," says Dr. Harari. "You have 11 more children at home but it's important that you stay. I do not know how long the tests will take and cannot even guarantee that we will find the cause. But if we do, we can treat it."

The mother picks up the child in her hands, and she wakes up startled and clings to her.

"I was afraid to come here," she admits. "I'm an Arab, Israel is foreign country. They speak here in a foreign language. But when they told me that someone would come and help with translation, it made it easier for me."

10:00am. Dr. Moshe Dotan receives a mother with two tiny daughters, two and three months old, both of whom suffer from heart disease. The little one cries, she is cold. He puts the stethoscope on her heart and lifts her in his arms.

The children remain for tests, receiving medical treatment and medication. In the middle of the night, the IDF forces aid in their return across the border.

Four children remain hospitalized, including Yasmin who underwent a pus drainage procedure from her lungs that day, under full anesthesia. She was hospitalized in the pediatric intensive care unit transferred the next day to the pediatric ward. She was transferred several days later to Rambam Hospital where she underwent surgery.

Dr. Zarka Salman, director of the Ziv Medical Center, is very proud of the project.

"You are witnessing something very special that the State of Israel is doing for the Syrian people," he said. "We so far treated more than a thousand patients Just at Ziv Medical Center, some of them suffering life-threatening injuries or ailments that required immediate treatment. They were all treated here professionally and with all the care in the world."