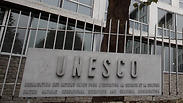 There won't be any anti-Israeli resolutions raised in the upcoming session of the United Nations Educational, Scientific and Cultural Organization (UNESCO) after the chairman of the organization's Executive Board worked to postpone in half a year two such votes.

In recent years, the Palestinians, with the help of Arab nations, have pushed for several anti-Israeli resolutions in UNESCO, including one that failed to recognize Jewish ties to the Temple Mount, one that rejected Israeli sovereignty over Jerusalem and one listing Hebron's Old City—and with it the Cave of the Patriarchs—as a Palestinian World Heritage Site.

But the fact there will be no anti-Israeli resolutions put to a vote in the coming UNESCO gathering is not due to the lack of trying.




Arab nations planned to push two resolutions on Jerusalem and Palestine—identical to resolutions passed six months ago—but the chairman of UNESCO's Executive Board, former German ambassador Michael Worbs, worked to postpone the vote by six months. The two resolutions will therefore not be voted on this year.

At the same time, Israel has been working to create a bloc of countries that would vote in support of the Jewish state. In October 2014, the pro-Israel camp included only the United States, but its ranks has since swollen to 10 nations.

Israel maintains that UNESCO is not the place for political decisions against the State of Israel or the Jewish people, and its official policy is that until the persecution against Israel in UNESCO stops, it will not hold talks concerning UNESCO's mandate.

Israel's Ambassador to UNESCO, Carmel Shama-Hacohen, said that "Until I hear the chairman hitting his gavel and declaring (the resolutions are postponed)—I won't believe it is happening. Just in case, I will be writing two response speeches."

He went on to say that while "It's nice to hear resolutions are not being passed against you, for us even postponements are pointless."

Nevertheless, he said, "At this point, we've decided to view it as a significant step towards stopping and completely erasing such resolutions. Pulling the resolutions and postponing them by at least half a year is encouraging—certainly when compared to the obsessive persecution of the State of Israel and the Jewish people—but it is not enough."

"Time will tell if this is a tactical change or a change of attitude that points to significant progress toward cleaning house in the organization and putting a stop to the incitement and politicization against us," Shama-Hacohen added.

"After the last few unpleasant years, I'd be happy to reach a point in which Israel and its neighbors can work positively in UNESCO and cooperate on education, culture and science as if there were no political conflicts. These conflicts should be left for the leaders in the relevant halls and rooms. Peace will not be achieved in UNESCO, but trust-building steps are possible, instead of dangerous incitement surrounding the most sensitive issue, the Temple Mount."