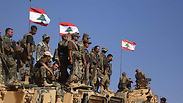 Lebanon dismisses Lieberman linking Hezbollah, army
Rebuffing statements by Israel's defense minister that Lebanese Army has relinquished independence to Hezbollah terror group and that next war will automatically be fought on 2 fronts, Lebanese military official says comments 'detached from reality,' warns Lebanon 'ready to defend its borders.'
A Lebanese military official criticized Wednesday as "totally detached from reality" statements made by Israeli Defense Minister Avigdor Lieberman the previous day in which he argued that the Lebanese army and Hezbollah are "inextricably linked."

"The Lebanese Army has full independence and is subject to the decisions of the political government," the official is reported to have said in an interview with the Lebanese newspaper Al Joumhouria.

Rebuffing Lieberman's remarks that "The Lebanese army has become an integral part of Hezbollah's campaign under its command" and that "The Lebanese army has lost its independence," the Lebanese official said, "(The government's) command is what outlines its military policies, and not anyone else."

In a stark warning to Israel, the official said Israel should avoid seeking any military adventures with Lebanon given its demonstrated military mettle.

"The Lebanese Army has proven its readiness to defend the eastern border against terror and it is also ready to defend the southern border if Israel decides to start a war of any kind," he said.

"Our basic task is to defend Lebanese territory and the army has no interest in merging fronts in war beyond the border," the official added in reference to Lieberman's assessment that the eruption of any war on any border would immediately trigger the opening of a second front, with the northern front consisting of both Lebanon and Syria.

"In any development that takes place, it will be one area—Syria and Lebanon together, Hezbollah, the Assad regime and all collaborators of the Assad regime. Regarding the Lebanese region, we're no longer talking solely about Hezbollah," Lieberman told IDF soldiers during a celebratory event marking the festival of Sukkot at his sukkah in the Kirya IDF headquarters based in Tel Aviv.

According to the Lebanese official, "The US and Britain are providing generous assistance to the army in Lebanon and they emphasize that they will continue to arm it and show continued trust in it.

"Does Washington and London arm Hezbollah, as Lieberman says? Does he have information that these two big nations don't?"

During his remarks, while Lieberman didn't claim to have any such information or claim that the US or the UK were arming the Hezbollah terror group, on more than one occasion he equated it with the Lebanese army.

"We're talking about Hezbollah and about the Lebanese military, and unfortunately this is the reality," Lieberman told the soldiers.

Alluding to the Latin proverb "Si vis pacem, para bellum" Lieberman set out his guiding principle which he said he believed served the best chances to avert war.

"My basic tenet is 'if you want peace, prepare for war.' Whoever wants peace must prepare for war, and I hope that our enemies on the other side will think carefully about each and every step they take against the State of Israel, so we won't need to illustrate the strength and abilities of the IDF," Lieberman warned.