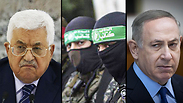 Abbas, Hamas terrorists and Netanyahu
Photo: Jonathan Zindel, AFP
US backs Netanyahu in calling on Hamas to disarm
Announcement by Trump's special Middle East envoy Jason Greenblatt comes day after Israel announces refusal to enter into peace negotiations with Palestinians unless Fatah, which recently reached a reconciliation agreement with the terror group, forces it to disarm, disavow violence; Hamas denounces US 'blatant interference.'
President Donald Trump's special Mideast envoy says if Hamas wants to play a role in any Palestinian government it must renounce violence and commit to peaceful negotiations with Israel.

Jason Greenblatt's statement Thursday was the first American comment on the advancing reconciliation efforts between the rival Palestinian Fatah and Hamas factions, and echoed Israeli demands.

"All parties agree that it is essential that the Palestinian Authority be able to assume full, genuine, and unhindered civil and security responsibilities in Gaza and that we work together to improve the humanitarian situation for Palestinians living there," Greenblatt wrote.

Greenblatt says Hamas must meet the international demands to recognize Israel and accept previous agreements with it. He says "it must accept these basic requirements" to take part in government. Hamas has always refused similar demands in the past.

"The United States reiterates the importance of adherence to the Quartet principles: any Palestinian government must unambiguously and explicitly commit to nonviolence, recognize the State of Israel, accept previous agreements and obligations between the parties—including to disarm terrorists—and commit to peaceful negotiations. If Hamas is to play any role in a Palestinian government, it must accept these basic requirements."

Responding to Greenblatt's exhortations, Hamas official Bassem Naim accused the US of interfering in the matter.

"This is blatant interference in Palestinian affairs because it is the right of our people to choose its government according to their supreme strategic interests," Naim told the AFP.

He further asserted that Greenblatt was bowing to pressure from Israeli Prime Minister Benjamin Netanyahu's right-wing government.

"This statement comes under pressure from the extreme right-wing Netanyahu government and is in line with the Netanyahu statement from two days ago," Naim said.

Under Egyptian auspices, the Palestinian factions last week announced a preliminary agreement and have formed committees to sort out unresolved issues, most notably who will control Hamas' massive weapons arsenal. Talks continue with Fatah.

On Wednesday, the Israeli Political-Security Cabinet decided the country will not negotiate with the Palestinians until Hamas is disarmed. The reconciliation agreement did not broach the issue of Hamas disarmament.