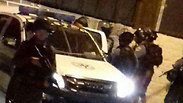 Overnight police operation in Isawiya
51 east Jerusalem residents arrested in overnight operation
Israeli government employs carrot and stick approach the Arab neighborhood of Isawiya, sending both policemen to arrest suspected criminals and terrorists while simultaneously deploying municipality employees to improve the city's internal infrastructure and conditions.
Fifty-one Palestinian residents of Isawiya, an east Jerusalem Arab neighborhood, were arrested overnight Sunday when hundreds of policemen and Border Policemen descended on the neighborhood as part of an operation to apprehend people suspected of terrorisms, rioting and other criminal acts.

In an attempt to curb the residents' hostile reaction, the police were joined by scores of Jerusalem municipality employees who, in parallel to the arrests, examined the licensing and safety conditions of businesses providing services in the neighborhood, installed and fixed lighting in public spaces, cleared garbage dumps and safety hazards, removed and repaired street signs, erased graffiti and the like.

The overnight operation (צילום: דוברות המשטרה)

During the course of the operation, the police carried out targeted searches and arrests of suspects against whom they had evidence of participation in recent violent riots, such as footage of them throwing stones and Molotov cocktails at vehicles and security forces.

The detainees were brought to the district's police station for further questioning, and will be subsequently brought before the court for a remand hearing.




Jerusalem District Police Commander Yoram Halevy defined the operation as a combination of determined enforcement against those involved in criminal or security offenses and an improvement in the quality of life of the normative residents of the village.

"This activity is a direct continuation of the police struggle against violent crime, disturbances and terrorism and against those who take an active part in violent disturbances against civilians and security forces," the police said in a statement.

However, others were less than enthusiastic about police measures.

"Mass arrests in the middle of the night and hundreds of armed Border Police officers in residential neighborhoods will not bring peace to the residents of Jerusalem," Said Aviv Tatarsky, researcher at pro-coexistence Israeli non-profit organization Ir Amim.

"Instead of understanding that our policy is undermining Jerusalem and harming all its residents, the Israeli authorities continue to use disproportionate force that will only exacerbate the crisis in the long run."