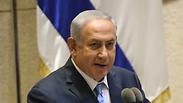 Netanyahu speaking at the Knesset
Photo: Motti Kimchi
Netanyahu attacks critics: No diplomatic understanding or foresight
The prime minister takes aim at the 'sourpusses' who 'keep missing opportunities, keep attacking, constantly whining,' asserting that despite the gloomy forecast of his opponents, 'Israel is experiencing a golden age, an unprecedented diplomatic and economic boom.'
Prime Minister Benjamin Netanyahu dedicated his speech at the opening meeting of the Knesset's winter session on Monday to attacking his critics.

"The industry of gloom still exists and has honorable representatives in this house and in the media. Recently, a new branch has been added—the sourpusses," he declared.

"They say the public's feelings have soured, that 'Netanyahu is walking around with a sour face.' They can't make up their minds whether I'm sour or smug or both," Netanyahu continued.

"You keep missing opportunities and you keep attacking, constantly whining and also cursing, unfortunately ... Deep in your heart, you sourpusses know that in a democratic election, we would win because we represent deeply-rooted things, important values for many among the people. The ministers, the committee chairpersons, the MKs are all doing excellent work together."

His attacks also went from the general to the specific, addressing the Iranian threat.

"I remind you, these are the same people who criticized my speech in Congress against Iran, doing so with authoritative and serious voices," he said.

Turning to the opposition leader, Netanyahu continued: "Herzog, you said this speech sabotages Israel-US relations. (Yesh Atid leader) Lapid, you said my view of America was outdated and irrelevant. You told me: You don't know America... Senior commentators said it was doubtful the speech would have any effect."

The prime minister argued his speech had a considerable effect on US President Donald Trump, who decided not to recertify the Iran nuclear deal and threatened to back out of it altogether.

"It says a lot about the diplomatic understanding and foresight of the sourpuss industry," Netanyahu noted.

He asserted that Israel was experiencing a "golden age... unprecedented diplomatic and economic boom."

"The citizens of Israel know it's good to live here. Israel is a beloved homeland, a warm home and, without a shred of cynicism, a wonderful country. Israelis go abroad in immense numbers... and when they return to Israel, what do they say? We hear this time and again—they say there's no country like our country, there's no country like Israel... we are turning Israel into a cyber, hi-tech, intelligence and water world power."

Netanyahu warned, "Let any enemy who threatens us with annihilation know he is putting himself at risk of a fatal blow."

"We have power, but we're not drunk with power. We're not complacent," he stressed. "We are still facing great challenges both inside the country and outside of it, primarily the need to thwart Iran's attempts to establish a military foothold in Syria. We act constantly to defend our borders and when the need arises—beyond our borders as well. At the same time, we're determined to prevent Iran from obtaining nuclear weapons to annihilate us. If it wasn't for our consistent and determined activity throughout the years, Iran would've had nuclear weapons a long time ago."

"At the same time, our hand is outstretched in peace to all of our neighbors," he added. "We desire genuine peace, not fake reconciliation with elements who still aspire to chase us away from here."
Herzog slams Netanyahu: You're dividing the people
Opposition leader Isaac Herzog (Zionist Union), who went up to the podium to speak after the prime minister, said Netanyahu's speech was creating divisions and rifts among the people of Israel.
"Instead of providing your people with security, you scare them. Instead of giving them hope, you depress them," Herzog told the prime minister. "Instead of allowing their spirit to soar and their hearts to beat with love, brotherhood, peace and friendship, you divide them and tear them apart. Both the people living in Israel and those in the Diaspora."
"Everything is allowed, everything is possible, all lines have been crossed—all to protect your rule. 'The country is me, and I am above all,'" Herzog continued.
He accused the coalition of allowing this behavior without doing anything to stop it or to protect democracy. "You don't seem to have internalized how nations and countries collapsed and crumbled, why our Temple was destroyed—over unjustified hatred, and the crawl toward fascism, which begins with legislation the likes of which we've seen in this house," the opposition leader charged.
"You've turned anyone who thinks differently into a traitor. You made the word 'Left' synonymous with 'enemy.' Even coalition members whose conscience won't settle find themselves under unprecedented attacks only for daring to express a moral position, and you call them a fifth column," Herzog continued. "Every time anyone voices a moral position or facts different to yours, you immediately shut their mouths and terrorize them. Especially you, Mr. Netanyahu."
Yesh Atid leader Yair Lapid also accused Netanyahu of trying to divide the people. "The prime minister and his group of sycophants have nothing to offer us in education, health, welfare, in uniting the people. They have one thing left: To make sure we fight with each other," Lapid said.
"There are two main topics the Knesset will deal with in the coming session," the Yesh Atid leader continued. "The first one is Prime Minister Netanyahu, his investigations, his hatred and his paranoia, as well as his attempt to strong-arm the police and to pass laws to save his own skin."
"The sad fact is the corruption encircling him on all sides has now reached the holiest of holies: national security," Lapid lamented.
"The second item on the Knesset's agenda is a byproduct of the first. The Knesset will be dealing with yet more attempts to drive a wedge and split the people of Israel apart, with a live demonstration of that coming in the form of the prime minister's speech just now. It wasn't the sourpuss speech, it was the stressed-out speech," he quipped.