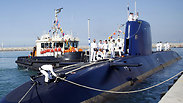 The German government has approved the sale of three Thyssenkrupp submarines to Israel and will provide financial support for the purchase, government spokesman Steffen Seibert told a regular news conference on Monday.

The estimated $2 billion deal is under police investigation in Israel over suspected corruption and several public officials and private citizens have been questioned in the case.

The 2016 deal has been under public scrutiny since it emerged that Prime Minister Benjamin Netanyahu's personal lawyer, David Shimron, also represented Thyssenkrup Marine System's local agent, Miki Ganor, raising concerns of a conflict of interest.

The attorney has denied wrongdoing and said he never discussed the deal with Netanyahu. Israel's justice ministry said in February that Netanyahu himself was not a suspect.

Seibert said Germany would make a contribution of up to 540 million euros to help finance Israel's purchase, noting Berlin's "historical responsibility toward the state of Israel."

Seibert said an inter-governmental memorandum of understanding approving the deal would be signed later on Monday, adding the two sides agreed not to disclose details.

Netanyahu welcome the signing of the memorandum of understanding (MOU), noting that "The MOU is strategically important to the security of Israel. Its signing reflects the commitment of Germany and Chancellor Angela Merkel to the security of Israel and the deep cooperation between the two countries."

Israel already ordered six submarines from Germany over the past two decades. The three new submarines are expected to go into service from 2027.