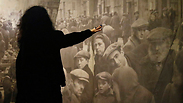 Warsaw Holocaust museum
Photo: Reuters
Polish bill adds stringent requirements for Holocaust restitutions
A new bill being pushed through the Polish legislative bodies seeks to make it nearly impossible for Holocaust survivors and their family members to receive restitutions for property seized from them by the post-war Polish communist regime.
A new Polish bill made public on Friday by the Justice Ministry in Poland includes several draconian clauses that would prevent the vast majority of Holocaust survivors and their family members from receiving any sort of restitution.

According to the bill, a Holocaust survivor seeking to file a claim for restitutions must be a current citizen of Poland and needs to have lived in the country when his or her property was seized by the post-war communist regime.

Additionally, under the proposed law, heirs will be able to file a claim, but they must be children or grandchildren of the survivors.

The stringent conditions preclude most survivors from filing a claim, since many Jewish families living in Poland were annihilated during the war by the Nazi regime, leaving no heirs to claim the property, while most who survived left Poland during the Holocaust or shortly afterwards.

The bill also says that survivors cannot file a claim if they could have applied many decades ago for compensation under restitution treaties signed between Poland and various countries after the war

Three million Polish Jews, about 90 percent of the Jewish community in the country, were murdered in the Holocaust.

Nevertheless, Poland is the only major European country that has not yet enacted a law for the restitution of Jewish property seized by the Nazis or the country's regime.

Following the publication of the bill's content, World Jewish Congress (WJC) President and World Jewish Restitution Organization (WJRO) Chairman Ronald Lauder and WJRO Chair of Operations Gideon Taylor, said that the WJRO is "profoundly disappointed that the Polish government's proposal excludes the vast majority of Polish Holocaust survivors and their families."

"Polish Holocaust survivors and their families were an integral part of Polish life for centuries. Their property is often their last tangible connection with the life they lived before the destruction of the Holocaust," they added.

"We strongly urge the Polish government to ensure that the legislation, when introduced to the Parliament, will have eligibility criteria and a claims process that are fair and just to those who suffered and lost so much."