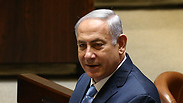 Prime Minister Netanyahu
Photo: Ohad Zwigenberg
The discussion at the Ministerial Committee for Legislation on a contentious bill proposal to shield a sitting prime minister from police investigations has been postponed by a month.

Prime Minister Benjamin Netanyahu, Coalition Chairman David Bitan and Minister Yariv Levin (Likud) decided Wednesday to push the vote on the bill, also known as the "French bill," in the wake of objections to the legislation from coalition partners Kulanu and Bayit Yehudi.

Another legislation proposal spearheaded by MK David Amsalem (Likud), which would bar the police from making a recommendation on whether or not to file an indictment in a case following the conclusion of the investigation, will be brought to a discussion in the committee in about two weeks.

Earlier on Wednesday, Bayit Yehudi MK Shuli Mualem-Rafaeli asked Coalition Chairman MK David Bitan (Likud) not to put the "French bill" to a vote, arguing the legislation violates coalition agreements.

Mualem-Rafaeli pointed to article 35 in the coalition agreement, according to which: "New Basic Laws or amendments to existing Basic Laws (with the exception of amendments to Basic Laws explicitly agreed upon in coalition agreements by all factions), would be submitted and passed only with the consent of every one of the coalition's parties. If a bill proposal is put to a vote in violation of the aforementioned agreement, all coalition factions would vote against it."

Shuli Mualem-Rafaeli said the Bayit Yehudi Party had an in-depth discussion on the bill proposal. "During the discussion, significant disagreements arose among members of the party and no agreement has been reached."

In an interview with Ynet on Sunday, Justice Minister Ayelet Shaked (Bayit Yehudi) said that "It makes sense not to investigate a prime minister about things that are, I would say, minor, like misdemeanors and infractions," stressing however that "It is not something that should be done quickly. It is something that requires thorough and in-depth discussion."

She stressed that she would "not allow the bill to pass without the coalition factions sitting and discussing it. Even in the coalition agreements, each faction has the ability to stop (an amendment to) a Basic Law at every stage of the legislation. The Ministerial Committee on Legislation is the most important stage because at this stage the coalition's position is determined. Therefore, this bill will be discussed only after all the factions have consolidated their position."

Meanwhile, Finance Minister Moshe Kahlon has decided to allow his Kulanu party members to vote as their conscience dictates. Because it is an amendment to Basic Law: The Government, it requires a majority of 61 MKs to pass. Without the assured votes of the Kulanu party, the legislation is unlikely to pass.

"The State of Israel is too important for us to forfeit it to all kinds of laws that could harm systems that are vital to democracy—for us and for the generations to come," Kahlon explained his decision during a Kulanu party meeting.

Kahlon stressed that while his party is committed to coalition agreements, "on issues we disagree, each faction member will have the freedom to vote as their conscience dictates."