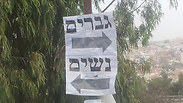 File photo: women's exclusion in Israel
UNHRC to discuss Israeli women's exclusion
UN Human Rights Council to discuss exclusion of women in Israeli society, including public transportation, 'decency' in advertising billboards and exclusion of women from Western Wall; Ministry of Justice delegation headed by director-general will counter claims, present Israeli strides already made in anti-human trafficking legislation and criminalizing clients of prostitution.
Supposed exclusion of women in Israel will be one of the main items on the agenda of the United Nations Human Rights Council—tasked with implementing the Convention on the Elimination of All Forms of Discrimination against Women—when it convenes in Geneva on Tuesday.

A delegate headed by Ministry of Justice Director-General Emi Palmor headed to Geneva to counter the claims, as the ministry is part of implementing the international convention to which it acceded in 1991.




The UN Human Rights Council, which received information about women's exclusion in Israel, forwarded some preliminary questions to the delegation, which was instructed to obfuscate nothing as to the problem's breadth.

The delegation will be reporting to the UN on tackling women's exclusion in public transportation, the issue of "decency" on billboards, attitudes of the religious establishment and Haredi parties towards women and the situation in cemeteries, clinics, hospitals, public libraries, public functions, the Western Wall, the media and academia.

The Human Rights Council, whose members currently include Qatar, Saudi Arabia, the United Arab Emirates and Egypt, will also deal with exclusionary aspects relating to domestic abuse and women's access to the courts system, an area in which Israel has made significant progress with pending legislation for criminalizing clients of prostitution, providing legal assistance to victims of serious sexual assault and fighting human trafficking.

The Israeli delegation will also be asked to address the battle against prevalent polygamy in the Bedouin sector and the claims the Ministry of the Interior was not implementing the government's decision to bar local authorities from banning mixed-gender seating in non-religious events.

Israel's delegation also said it expected issues relating to marriage and divorce, personal status and custody of children, all of which have been organized in an international convention, which is why they are expected to be broached.

The issue of the "occupation" was also expected to be brought up vis-à-vis women's rights. The Israeli delegation said it expected attempts to censure Israel by making claims women and girls face violence during arrests and raids conducted by security forces in the West Bank and east Jerusalem.