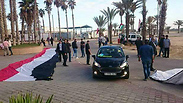 Hamas cedes Gaza border crossings to Palestinian Authority control
Just under a month after PA and Hamas sign reconciliation deal, employees from Abbas's faction move into Erez and Kerem Shalom crossings on Israeli border and Rafah crossing on Egyptian border; Hamas's departure as it relinquishes control replaced by large murals of Abbas and Egypt's president pinned up at entrances.
The Islamist terror group Hamas began ceding control of the Gaza Strip's border crossings with Israel and Egypt to Palestinian Authority (PA) President Mahmoud Abbas on Wednesday under an agreement brokered by Cairo to end a decade of internal schism.

The move marked the most concrete implementation of the October 11 reconciliation deal signed between the two warring Palestinian factions.

Israel and the United States have reservations about the intra-Palestinian pact, however, given refusals by Hamas—which has fought three wars with Israel since violently seizing control of Gaza from Abbas in 2007—to relinquish its rockets and other arms.

Witnesses said that employees from Abbas's PA moved into Erez and Kerem Shalom crossings on the Israeli border and Rafah crossing on the Egyptian border, as Hamas counterparts packed up equipment and departed on trucks.

At Rafah, large murals of Abbas and Egyptian President Abdel Fattah al-Sisi decorated the entrances to the passport hall and Palestinian and Egyptian flags flew over the compound.

Citing security concerns, Israel maintains tight restrictions on the movement of people and goods at its crossings with the Gaza Strip.

Egypt, which in the past has accused Hamas of aiding an Islamist insurgency in its Sinai peninsula bordering Gaza, has kept Rafah largely closed. Hamas denies the allegations and has stepped up security along the frontier.

Ministers from the Abbas-backed government of national consensus have begun gradually to assume their duties in Gaza in past weeks and on Tuesday took over the revenue accounts of the Rafah and Kerem Shalom crossings, officials said.

Hamas had used those revenues—taxes and fees collected from merchants and passengers—as part of its Gaza budget, to pay salaries of the 40,000 to 50,000 employees it has hired since 2007. Those wages will now be paid by the PA, under the Cairo agreement.

Hamas also maintains an armed wing, which analysts say has at least 25,000 well-equipped fighters. It remains the dominant force in Gaza, an enclave of two million people.

The Palestinian Authority will begin operating the Erez and Kerem Shalom crossings immediately, officials said, while in Rafah the operation will await further security arrangements such as deploying a force from Abbas's presidential guards and Cairo completing innovations on its side of the facility.