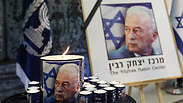 Rabin's memorial ceremony
Photo: Ohad Zwigenberg
Yuval Rabin critiques PM Netanyahu in Mount Herzl speech
Speaking at Mount Herzl memorial ceremony on 22nd anniversary of assassination, Rabin's son Yuval admonishes PM Netanyahu, says his father 'did not enact legislation, abdicate responsibility, whine'; in own speech, Netanyahu stresses national decision can only be made 'in ballot box'; speaking during earlier memorial at President's Residence, Rivlin vows never to forgive assassin, laments 'serious tears' caused by murder.
Israel's leaders and dignitaries assembled at the Great Leaders of the Nation's Plot on Mount Herzl for the state memorial ceremony for slain Prime Minister Yitzhak Rabin on the 22nd anniversary of his death, with Rabin's family in attendance. In his speech, Rabin's son Yuval needled Prime Minister Benjamin Netanyahu in saying, "Rabin did not enact legislation (referencing the recent wave of legislation perceived to protect Netanyahu from investigations or prosecution—ed.), did not abdicate his responsibilities and did not whine."

The wreath-laying ceremony was attended by Prime Minister Netanyahu, Hilik Bar—who is stepping in for Yuli-Yoel Edelstein who was on a state visit to Cyprus—and for the first time, the newly appointed Supreme Court Justice Esther Hayut.




Yuval Rabin worked some contemporary political criticism into his speech. "Rabin and his wife were not handled with kid gloves. Rabin did not enact legislation, did not abdicate his responsibilities and did not whine. Even when he was under an onslaught of the worst hateful attacks conceivable, he was everyone's prime minister. That is not the way things are today," he said.

"I'd like to make something perfectly clear: what happened 22 years ago was murder. It was politically-motivated. The goals it was meant to achieve were clearly defined and there absolutely was incitement (against Rabin). That is a truth we must come to terms with," the late prime minister's son demanded.

"We can no longer sit idly by as Yitzhak Rabin is portrayed as a murderer himself who was responsible for the deaths of thousands of Israelis. Enough is enough. The vast majority of the victims of the Oslo Accords were murdered by Hamas. That organization was, and still is, a sworn enemy of Israel," he said in an attempt to clarify any possible misconceptions regarding his father.

Prime Minister Netanyahu—the object of Rabin's censure—also spoke at the memorial. "Rabin's murder obliges us to denounce any form of violence, all the more so when it's directed against elected officials. The freedom of argument and expression must be preserved, but woe unto us if that is not the case. We're committed unequivocally to the basic tenets of democracy, and national decisions will be made at the ballot box and nowhere else."

Netanyahu then went on to speak about Rabin's political statements, comparing them to his own. "Rabin cautioned against the over abundance of launching terrorist attacks against Israeli from Palestinian territory, determined we will not be going back to the June 1967 lines and demanded Jerusalem remain Israel's capital and under Israeli sovereignty," he said.

"Rabin reiterated his commitment to not uproot any settlement as part of the Interim Agreement and my stance is also that neither Jewish nor Arab settlements should be uprooted even as part of a permanent agreement. That is not only my stance but the stance of most of Israel's citizenry. We can join together around Rabin's security perception, accepted by most Israelis, which is necessary to safeguard our future and achieve lasting peace with our neighbors," Netanyahu concluded.

Earlier Wednesday at a memorial taking place at the President's Residence in Jerusalem, President Reuven Rivlin warned that Israeli society could not lend a hand to "the erosion" of its democracy which had been caused by Rabin's assassination.

Opening the 'Ner Yitzhak' state memorial ceremony at the President's Residence, Rivlin lamented the severe wounds inflicted on Israeli society as a result of the shooting carried out by the radical right-wing extremist Yigal Amir.

"The murder was not merely an erosion of Israeli democracy, but also caused a serious tear in it," Rivlin said.

"We will never forgive the person who murdered the prime minister and tore a huge rupture in the fabric of the State of Israel. The fracture that was caused has widened as a result of that murder and we have been trying to heal it ever since and we must continue to do so."

Rivlin added his belief that a balance must be struck within Israeli democracy to enable an environment in which disagreements and dialogues can flourish without compromising national unity.

"Stateliness is entrusted with creating a delicate balance between allowing disagreements in the most penetrating and sharp manner, and unity," the president said.

Reminding his listeners that Israel is the only Jewish state in the world, Rivlin urged that it not be taken for granted. "We cannot be naive, or believe that riches are forever. Statliness itself also requires repairs and updates. We cannot give up on it or to lend a hand to its erosion."

Only through determined and cooperative activities to strengthen statehood, he continued "will we succeed in strengthening and connecting the fiber between the tribes and the camps while committing to maintaining the uncompromising construction of Israeli democracy and guarding it. Because we don't have, not one of us, another state."

The ceremony was also attended by President Rivlin's wife Nechama, along with leader of the opposition Isaac Herzog, Deputy Knesset Speaker Hilik Bar, Supreme Court Judge Anat Baron, Chief Rabbi David Lau, members of the Rabin family, other MKs, and students.