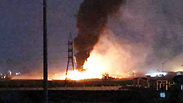 A photo posted online after attack, claiming to be of the Israeli strike in Syria
IAF strikes Syrian munitions factory, Syria retaliates
Lebanese news sites report Israeli Air Force jets strike munitions factory near Homs, prompting Syrian army to fire surface-to-air missile at IAF aircraft, but miss target; RT Arabic claims factory affiliated with Hezbollah; strike takes place as Russian President Putin visits Tehran.
The Israeli Air Force (IAF) attacked a munitions factory near the city of Homs in Syria on Wednesday night, according to Lebanese reports, prompting the Assad regime to fire an anti-aircraft surface-to-air missile at the aircraft in retaliation.
The Lebanese Hezbollah-affiliated Al Mayadeen TV network noted there were "unconfirmed reports Israel had attacked a facility in an industrial area in the suburbs of Homs, and that the Syrian anti-aircraft systems responded" to the Israeli attack.
Al Mayadeen also reported the Syrian army responded by firing a surface-to-air missile at the IAF aircraft from the base of the Syrian army's 72nd Brigade, but missed, with the Israeli fighter jets returning home safely.
Pres. Putin meeting with Ali Khamenei (צילום: רויטרס)
The Syrian Observatory for Human Rights, a Britain-based organization that reports on the war, said the air strike had targeted a military installation.
The Observatory cited sources who suggested the facility was a rocket depot, adding it was unknown whether these rockets belong to the Lebanon-based terrorist group Hezbollah or the regime of Syrian President Bashar Assad.
Russian broadcasting channel RT Arabic, formerly known as Rusiya Al-Yaum reported the factory, which was reportedly struck four times, was affiliated with Hezbollah.
Meanwhile, Al Mayadeen claimed the attack was aimed at a copper factory in the Hisya industrial area, 35 kilometers south of Homs.
There were no reports of casualties in the strike.
"I can't, of course, relate to reports about the Israel Defense Forces' attack in Syria, but regardless, Israel's position is clear: Smuggling arms to Hezbollah is a red line in our eyes," Intelligence Minister Israel Katz told Army Radio on Thursday morning.
"Israel has acted in the past and it will act in the future to prevent arms smuggling to Hezbollah according to intelligence information that we will have," said Katz.
He said Israel's "red line" was "against arms smuggling (and) also against Iran's consolidation in Syria" and that it was "prepared to act to deter against our responses."
"I think the other side also understands this clearly and actions that took place in the past for which we did take responsibility, were actions that were according to these lines, these red lines," Katz added.
Earlier on Wednesday, Israeli planes were reported to have flown in the commercial mountain range over the Lebanese Mountains, before a massive explosion was heard on the Lebanese-Syrian border.
The strike took place as Russian President Vladimir Putin visits Tehran and met with Iran's Supreme Leader Ali Khamenei earlier in the day, in an effort to strengthen the Russia-Iran-Syria alliance.
Last month, the IDF attacked three Syrian artillery cannons in response to earlier rocket fire at the Golan Heights. The IDF Spokesperson's Office said five rockets had fallen in the northern Golan Heights, four of them falling within Israeli territory.
In response, the Syrian Foreign Ministry sent two letters, to the UN secretary-general and to the Security Council president, stating that "Syria warns again of the the grave consequences of such repeated aggressive acts," demanding the UN to condemn Israel's actions.
Two days earlier, the IDF attacked a Syrian army post in response to errant fire from intenal Syrian fighting.
The IAF has struck arms convoys of the Syrian military and its Lebanese ally, the Iran-backed Hezbollah, nearly 100 times in recent years.
Israeli officials have expressed alarm at Iranian influence in Syria, where Iran-backed groups have played a critical role fighting in support of President Bashar Assad during the conflict that erupted in 2011.
Iran's military chief, General Mohammad Baqeri, warned Israel against breaching Syrian airspace and territory during a visit to Damascus last month.
Reuters contributed to this report.