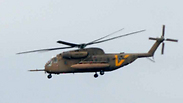 File photo
Photo: Avihu Shapira
An IDF soldier was lightly injured on Tuesday in a training accident at a base in the Jordan Valley.

He was airlifted to a hospital and was in stable condition.

The IDF will investigate the incident, the reasons for which are yet unclear.

In late September, two IDF soldiers—Second Lieutenant Avshalom Armoni, 22, of Beit Horon and Sergeant Avinoam Cohen, 22, of Jerusalem—were killed in a training accident in the Golan Heights when a self-propelled cannon overturned into a ditch. Two other soldiers were seriously injured in the accident while another two were in light condition.

In early September, a soldier was seriously injured when a grenade exploded near him during training at the Artillery Corps' training base at Shivta, in the southern Negev. The military police opened an investigation into the incident. It was also decided to stop using grenades during training until the end of the initial investigation.