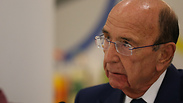 Alex Gilady
Photo: Oren Aharon
Israeli media mogul and member of the International Olympic Committee Alex Gilady has resigned as president of the local Keshet broadcasting company amid accusations of sexual assault and harassment.

Alex Gilady said on Wednesday he is "temporarily stepping aside" until he proves his innocence. The accusations began last week when Channel 10 TV journalist Oshrat Kotler said Gilady made an "indecent" proposal during a job interview 25 years ago.

Then Haaretz columnist Neri Livneh said Gilady exposed himself to her during a 1999 business meeting at his home.

It was, though, only the beginning of the downward spiral for the embattled senior producer, as two other women then came forward Tuesday, claiming Gilady had raped them.

Their testimonies were similar—Gilady used his position to lure them to his apartment or office where he forced himself on them.

"He named two famous women and said, 'What do you think, who made them stars? Do you think they could have made it on their own? It's all by my hand, everyone passed through this room," the first of them said anonymously in a Channel 10 News interview. "I did not feel what he then did to me. I detached."

"When a woman has sex with a man involuntarily, what are you supposed to call it if not rape?" She added. "I ran away afterward, I got out of there agitated, I remember myself running in the streets and not knowing where."

The testimony of the second woman was published in Haaretz daily. The article did not name her, but mentioned that the incident mentioned took place in the 70's while she was working under him as part of a large television project.

"He was my boss. We were working together. One day he asks me to come with him to get some stuff from his house. There is not much to tell. It's very clear and direct and immediate," the woman testified.

Gilady founded Keshet and is also a former sports executive at NBC and Israel's representative to the International Olympic Committee.

He denied the rape accusations. He says he doesn't recall the Kotler incident but said Livneh's claim was "mainly correct" and apologized.

"In each of these cases, there was no intention to harm, and if my conduct caused mental anguish, I am deeply sorry," he said.