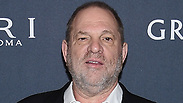 Harvey Weinstein
Photo: Getty Images
Israeli intelligence firm apologizes for taking Harvey Weinstein job
Black Cube, which was hired by the disgraced Hollywood producer to gather information on actresses and journalists who attempted to reveal his decades-long record of sexual abuse, says it 'condemns any act of violence, particularly sexual harassment' and promises to donate all its earnings from the case to organizations supporting sexual assault victims.
Israeli intelligence firm Black Cube on Thursday provided its version to a New Yorker report that disgraced Hollywood producer Harvey Weinstein had hired the company to locate and collect information on actresses and journalists who attempted to reveal his decades-long record of sexual assault and abuse.

"The company condemns any act of violence, particularly sexual harassment," Black Cube said in a statement, "which is why the company will donate all its earnings from this case to organizations supporting sexual assault victims in Tel Aviv, London and New York."

The company confirmed that its services were used by the American producer, but insisted that it did not act against his victims.

Black Cube admitted that it should not have taken Weinstein's case, as its policy is not to handle cases related to sexual harassment or any kind of violence.

"We apologize to whoever was hurt by this," Asher Tishler, a member of Black Cube's advisory board, told Channel 2 News. "In retrospect, it's a shame we took the job."

The British Daily Mail reported Thursday morning that Stella Penn Pechanac, an Israeli IDF veteran in her 30s, was the spy hired by Harvey Weinstein to collect information on one of the most vocal women alleging mistreatment—actress Rose McGowan, who accused the producer of rape.

Penn Pechanac reportedly posed as a women's rights activist and recorded at least four meetings with McGowan in an attempt to collect sensitive information that could be used as leverage against her in a bid to prevent her from publicly coming forward with the details of the abuse she suffered at Weinstein's hands.

Penn Pechanac presented herself to McGowan as "Diana Philip," a top London investment firm executive, and supposedly offered her $60,000 for participating in a conference on combating discrimination against women in the workplace.

Over a span of several months, the two met a number of times, including in New York and Los Angeles hotels, where Penn Pechanac pressured McGowan to divulge information.

The Daily Mail further claimed Penn Pechanac was recently married and resides in Jaffa.

In Israel, the mysterious spy is known as Stella Pechanac, an actress who graduated from Nissan Nativ's famed acting studio. Pechanac performed in plays alongside such stage veterans as Shlomo Vishinsky, Jason Danino-Holt, Gaia Shalita Katz, Liel Danir, Meggie Azarzer and others.

Penn Pechanac's grandmother, Zejneba Hardaga, was a Bosnian Righteous among the Nations who saved Jewish families from the Nazis in Sarajevo during the Holocaust. Hardaga was the first Muslim woman bestowed with the honor.

In a 2011 interview she gave to Yedioth Ahronoth, Penn Pechanac said: "After the army I sort of began examining myself inwardly and wanted to reconnect with my past. Today I'm both Esther and Stella. I'm the granddaughter of a Muslim woman and the daughter of a Christian father and Muslim mother, who converted to Judaism. And I try to encompass all of that in myself."

On her acting career, Penn Pechanac said, "I always get asked where I'm from in auditions. I don't look Israeli and no matter how much I try and distance myself from labels, being the granddaughter of a Muslim and all that, I'll always be told I should play the foreigner. They'll pick up on my accent and won't let me play the native-born Israeli. I've been told I was beautiful and charismatic, but that a special part that needs to be written for me."

Weinstein was introduced to the Israeli company by former Prime Minister Ehud Barak. Sources say the company was tasked with "finding the people running the orchestrated campaign against Weinstein." The names raised at the time were not of women, but of shareholders, competitors and political forces who targeted Weinstein over his ties with former US Secretary of State Hillary Clinton.

Black Cube dismissed the political direction in the first month of its work. After obtaining the information from McGowan and several journalists, it completed its part in the project, not before receiving an indication that dozens of women had complained against Weinstein. The company never approached them however, as Weinstein had hired four other business intelligence companies to handle the women.

The Daily Mail reported Weinstein paid Black Cube no less than $1.3 million to spy on his "enemies", including multiple actresses and fashion designer Kenneth Cole. The contract between the parties was reportedly signed October 24, 2016.

The details of Weinstein's intelligence-gathering network appear in the agreement, a copy of which New Yorker magazine obtained. The agreement stated its aim was to prevent Weinstein's indiscretions from becoming public. During the course of Black Cube's investigations, information was gathered on dozens of women, for which psychological profiles were reportedly constructed. Their sexual history was also traced.

Weinstein oversaw the investigations himself, with the help of his attorneys, and also utilized people formerly employed in the movie industry.

The founder of Black Cube is Dan Zorella, 32, formerly of one of Israel's classified intelligence units. Zorella founded the company four years ago with his friend Avi Yanus. Their goal was to build a civilian version of intelligence agencies such as the British MI6, American CIA or Israeli Mossad.

What originated as a start-up created by friends transformed into a gigantic company employing dozens of former Israeli intelligence officials, from computer whizzes to stealth operatives with proven kills.

"It is Black Cube's policy to never discuss its clients with any third party, and to never confirm or deny any speculation made with regard to the company's work," a Black Cube spokesman said.

"Black Cube supports the work of many leading law firms around the world, especially in the US, gathering evidence for complex legal processes, involving commercial disputes, among them uncovering negative campaigns. The company does not get involved in family disputes or sexual harassment cases.

"It should be highlighted that Black Cube applies high moral standards to its work, and operates in full compliance with the law of any jurisdiction in which it operates –strictly following the guidance and legal opinions provided by leading law firms from around the world."