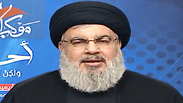 Hezbollah Secretary-General Hassan Nasrallah
Nasrallah accuses Saudi Arabia of pushing Israel to attack Lebanon
Nasrallah blames Saudi Arabia for inciting Israel to attack Lebanon, alleges it was willing to pay 'tens of billions of dollars' to achieve goal; while attack not ruled out, Nasrallah says it's unlikely due to high cost Israel will pay; to back claim, Hezbollah leader mentions Israeli embassies instructed to praise anti-Hezbollah Saudi efforts, 'assistance' to Syrian rebels, Nusra Front.
Hezbollah Secretary-General Hassan Nasrallah dragged Israel into the conflict between his organization and Saudi Arabia Friday afternoon, in light of the recent resignation of Lebanese Prime Minister Saad Hariri, saying in a speech the Saudi kingdom declared war on the terrorist organization and Lebanon and is trying to push Israel to attack Lebanon.

"Saudi Arabia is inciting Israel to launch a war against Lebanon. I speak here about facts, not analysis. Saudi Arabia is ready to pay tens of billions of dollars to Israel for that," Nasrallah alleged.

While an Israeli attack could not be ruled out entirely, the Hezbollah chief said, it was unlikely partly because Israel knew it would pay a very high price. "I warn them against any miscalculation or any step to exploit the situation," he said.

In order to make the purported Israeli-Saudi relationship clearer, Nasrallah noted the Jerusalem Ministry of Foreign Affairs' instruction to Israeli embassies around the world to profess their support for the Saudi efforts against Hezbollah, as well as what he dubbed the "Israeli assistance" given to Syrian rebels and Al-Nusra Front, a Syrian terrorist organization linked to al-Qaeda.

"Israel is trying to incite a civil war," Nasrallah claimed, before warning Israel not to make any miscalculations in trying to take advantage of the situation in Lebanon. "Israel must not think we're afraid or confused. We're stronger than ever today."

Nasrallah's speech came on the heels of Hariri's shocking resignation last Saturday, which he made while staying in Saudi Arabia. In his speech, Hariri launched into a vicious tirade against Iran and its Lebanese proxy Hezbollah for what he said was their meddling in Arab affairs and said "Iran's arms in the region will be cut off."

Hariri's speech also contained other unprecedented accusations levied against Iran. The former Lebanese premier added war follows Iran wherever it goes and claimed Hezbollah was coercing Lebanon to follow its lead by using violence. Lastly, Hariri disclosed he'd recently learned of a plot to assassinate him, similarly to the killing of his father, former prime minister Rafik Hariri.

In his own televised speech Friday, Nasrallah attacked Saudi Arabia and once again accused the Sunni country of forcing Hariri to resign. "Let us say things as they are: (Hariri) is detained in Saudi Arabia and forbidden until this moment from returning to Lebanon," Nasrallah added.

The Hezbollah secretary-general alleged this was Saudi Arabia's way of imposing a new prime minister on Lebanon and that until recent developments, his country had enjoyed an extraordinary period of stability.

"A president was elected, a prime minister appointed and a unity government created, which has thus far conducted itself in a serious, effective manner. An election law allowing for parliamentary elections was passed and a budget was approved for the first time in 12 years. We've enjoyed unprecedented security and stability. Look at what's been happening in the United States over the past 40 days and look at Lebanon," Nasrallah suggested.




The Hezbollah leader concluded by attempting to present himself as standing alongside Hariri against Saudi Arabia. "We denounce this blatant Saudi interference in Lebanon's internal affairs. It's improper. We denounce the shameful manner in which Hariri was treated from the moment he arrived at the Saudi airport. Humiliating the Lebanese prime minister is tantamount to humiliating every Lebanese citizen. At the moment we're of the opinion Hariri's resignation is neither legal nor constitutional. It has no value, because he was made to resign," he said.

Reuters contributed to this report.