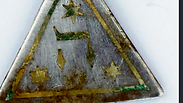 The other side of Karolina Cohn's pendant
Photo: From family album
Pendant lost in Sobibor reunites Jewish girl's family 70 years later
A piece of jewelry discovered by archaeologists at the former Nazi death camp, similar to a pendant that had belonged to Anne Frank, leads to a worldwide journey in search of relatives of its owner, Karolina Cohn. The journey will come to its end Monday, when family members gather in Frankfurt to commemorate a girl they never even knew existed.
"I remember that day clearly. It was January 16, 10 months ago. I got a phone call from an unknown number. I was on my way to the cinema, so I didn't answer. Ten minutes later, my daughter called and left a message that sounded more urgent than usual. 'Father, you have to listen to this,' she said. 'There's someone on the line with information about your family.'"

In a phone call from his home in Virginia, 72-year-old Barry Eisman tells me about the day his private history underwent a dramatic change. Eisman will arrive in Frankfurt this week for an extraordinary meeting of family members who were separated by fate 75 years ago. Now, thanks to hard work and a lot of luck, the family is about to reunite.
The anonymous girl riddle
The key to the family reunion was buried all these years a few tens of centimeters under the frozen ground of the Sobibor extermination camp in eastern Poland. One day last winter, during an excavation in the area, archaeologists discovered a silver pendant with Hebrew words: "Mazal Tov, 3.7.1929, Frankfurt am Main."

The hard work at Sobibor often reveals shocking findings, from children's name tags to teeth braces and bones. "All we hear in the background are the voices of the spades, and there is constant tension in the air because you don't know what you'll find," says Yoram Haimi, the archaeologist who has been leading the digging in the area for 10 years now, and whose own relatives were murdered in Sobibor.

The excavation has already uncovered some 70,000 items, but the anonymous pendant that was unearthed that morning grabbed his attention and was handed over to the Yad Vashem Holocaust museum in Jerusalem.

In early 2017, Yad Vashem researchers discovered the identity of the pendant's owner. Karolina Cohn, the only Jewish girl born in Frankfurt on the date imprinted on the pendant, was 12 years old when she was deported with her sister Gitta and their parents to Minsk Ghetto in Poland. From there, they were likely sent to Sobibor. The pendant was found under the floor of the hut where women were undressed and had their hair cut off, moments before entering the gas chambers.

The researchers were surprised to find out that the only other pendant similar to the one found in the excavation belonged to another girl born three weeks before her in Frankfurt: Anne Frank, the Jewish girl who kept a diary while hiding from the Nazis in Amsterdam before being deported to a concentration camp. Was there any connection between the two girls? That question remains unanswered.

In January, Yad Vashem researchers and the Israel Antiquities Authority issued an appeal to the public to provide information about Karolina Cohn, who was killed together with her entire immediate family. Chaim Motzen, an Israeli entrepreneur in the field of renewable energy in Africa and an amateur genealogist in his free time, was intrigued by the appeal.

"I am the grandson of Holocaust survivors, and at the time I was trying to find a picture of my great grandfather for my 90-year-old grandmother," he says in a phone conversation from Ethiopia. "When I read the story, I said, wow, perhaps I could help. I started researching.

"At first, I made quick progress through testimony pages and by searching through databases, and I found a few relatives. When I contacted them, they were so excited that it encouraged me to keep going. I had to do some detective work, buy documents from abroad, telephone all kinds of people."

Within several weeks, Motzen contacted dozens of relatives who had never heard about Karolina and her family. Some of them didn't even know they were Jewish.

"It was an emotional and strong conversation," Barry recalls the first time he spoke to Motzen. "The first thing I felt was guilt. Guilt that we have a good life, and she deserved a good life too."

Barry's father left Germany in 1930 and started a new life in New York. "He must have known Karolina. She was a year and a half old when he left. After he left, his entire family was murdered. He remained all alone. He never spoke about it, and we didn't know anything about that family. He may have been trying to protect us."

"Father didn't talk much about anything," confirms Michelle Eisman, Barry's sister, who lives in Hiroshima, Japan. "Even when we asked questions, he didn't want to answer. But I remember that when the Eichmann trial was broadcast on TV, he was glued to the screen. I sat next to him and asked if it wasn't painful for him to watch these things. He was silent for a moment, and then he said: 'Time heals all wounds.'"
'It's already changing us'
Sonya Kunkel, 56, of Connecticut, recalls her initial suspicions when she received the phone call from Motzen in January. She quickly realized the magnitude of the story, however, and joined the research efforts. She contacted relatives and started going over documents and pictures. Her paternal grandmother was Karolina's cousin.

When the new family tree that developed around the girl with the pendant grew, an initiative was raised to commemorate Karolina Cohn and her family members. Over 30 relatives from around the world are expected to come together Monday, and artist Gunter Demnig will place a brass plate with the names of the murdered family members between the cobblestones opposite the family's house in Frankfurt, like tens of thousands of similar brass plates commemorating Nazi victims all over Europe. Children from Karolina's old school will hold a memorial ceremony, and archaeologist Yoram Haimi will explain to the children about the research.

Barry is very excited about the upcoming trip. He used to be a professional basketball player, and even played for Maccabi Tel Aviv in 1968. After Motzen gave him his father's original address in a town near Frankfurt, he contacted the local community and discovered that his father had been an outstanding soccer player as a child. He plans to visit the town during his trip to Frankfurt.

"We're going to meet a lot of new people," he says. "If only we could have a normal Jewish family meeting instead of this family reunion, in which people complain about each other and argue about trivial matters. It's going to be an extremely staggering moment, and I think it's already changing us. We're getting closer."

"I'm very excited about the meeting," says Sonya. "It's amazing to find out that an entire part of our family, which I thought had ceased to exist, actually exists."

Her father, Ernest, is looking forward to the reunion too, but the journey brings back bad memories too. "There's still the internal feeling of the persecution we went through, hiding in Italy, moving from one village to another in a constant effort to survive. I was very young, but I have a lot of memories."

Some relatives will arrive from Israel too. One of them is Ruthie Weinstein from Ra'anana. Whose mother was Karolina's cousin. "I don't know the people who are coming to Frankfurt," she says. "I was very surprised by the discovery. I was an only child all my life, and suddenly I have a big family. It's very strange, but it's also sad, very sad."
'They deserve to be remembered'
The organization behind the initiative is the Claims Conference, which has been active since the 1950s and focuses on negotiations with the German government over reparations for Holocaust survivors. When Yad Vashem researchers found Karolina Cohn's name according to her birthdate and place of birth, it was thanks to the computerized Yad Vashem database, which was funded by the Claims Conference.

After the relatives were located around the world, the organization decided to use the educational opportunity to initiate a ceremony together with the local schools.

"All this has to do with one of our important goals," explains Claims Conference Chairman Greg Schneider. "We are in an era in which Holocaust stories are turning from a personal memory into history, and it's our responsibility to document as much as we can.

"In the documentation area, the main point is the commemoration. A million and a half children were murdered in the Holocaust. It's impossible to comprehend the meaning of such a number, but it is possible to comprehend Karolina Cohn's story. That's why people are comparing the story to Anne Frank. Karolina didn't keep a dairy, or maybe she did but we haven't gotten hold of it. That doesn't make her life less precious. These people deserve to be remembered."

The organization transfers about $1 billion a year from the German government in direct payments to Holocaust survivors around the world and to welfare organizations that support them. One percent of the budget, about $9 million, is allotted to education, documentation and commemoration.

Schneider plans to attend the Frankfurt ceremony too, along with Chaim Motzen, Yoram Haimi and the relatives. "This day has a grand goal," he says. "It's important to the family, which was torn into pieces, but it's also a unique opportunity for the rest of the world to gain a slightly better understanding of the meaning of the Holocaust."

"There's only one thing I'm really distressed about," Barry concludes. "That my father and his family are not here to discover all of this together with us. I'm certain it would have been very painful for them, but it might have also served as a proper closure."

He pauses for a minute before adding, "Sometimes I think it wasn't a coincidence that the pendant fell under the floor. It may have Karolina's goal. Perhaps she knew that some of her relatives had escaped and settled around the world, and that one day this pendant would be found and would bring the family back together. And look, that's exactly what happened."

Now, after helping to bring Karolina Cohn's family together, Chaim Motzen is seeking the public's help in finding his own lost relatives:

"My grandmother Marth (Miriam) Koth Motzen is a Holocaust survivor from Putnok, Hungary. Her dream is to see a picture of her father, Yaakov Yehezkel Koth, who was murdered in the Holocaust. My extensive research has generated no results, and I would appreciate any help. Her father was born in Putnok in July 22, 1897 to Avraham Koth and Catlin (Gittel) Braun. He studied in Bratislava, at the Pressburg Yeshiva, from 1915 to 1919, and married Regina Weingarten in Spišské Podhradie in 1923, and then they returned to Putnok. I would be grateful for any relevant picture, from the yeshiva or from acquaintances."