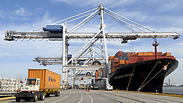 Large-scale containers at the loading dock
Photo: STI
Israeli firm provides surveillance to 200M shipping containers
An Israeli success story: IDF veterans founded surveillance technology company STI to monitor shipment containers by land and sea, in addition to other cutting-edge technologies for the private sector, based on national security solutions.
After years of security developments that have placed Israel at the forefront of the field's technological advancements, Israel has also become a global leader due to the professionals it produces in this specialized sphere. As such, it stands to reason that its technological products would become breakthroughs in new international markets. One such company is technological surveillance expert Security Technology Integration (STI), which has spread across the world as it pushes forward.

The company was founded 15 years ago by three partners: high-ranking, special unit officer Yuval Ovadia; maj.-gen. (res), former Sayeret Matkal commander and former deputy Mossad head Amiram Levin; and top-ranking elite Intelligence Corps 8200 and one of the founders of the Prime Minister's Office's Cyber Unit, Rami Efrati.

"We're a technology company that has a rich background in security, though our activities are completely civilian-based," said Ovadia, who is also the company's CEO. "All our workers come from the operations field. Their knowledge and experience allow us (to offer—ed) technological solutions from start to finish, tailoring them for the client."

"We follow three basic principles when developing (our products): the first is the system's relevance to the needs in the field; the second is the price, which needs to reflect the system's costs and what the client can afford; and the third is understanding the client's operational abilities, since we have to consider who will be operating the system in the field and what their capabilities are."
Strategic security thinking customized for the private sector
STI offers several products based on its founders' background in national security. "We've developed a product that includes a unique system that caters to maritime shipping clients all over the world, with operating, customs and various oversight devices that ship and monitor the cargo inside the containers," the company says.

"The system collects, preserves and compares information from a plethora of sensors dispersed everywhere—at sea, at the port and outside it, to track the containers. The system spots any anomalies in the data on the (content's) shelf life and reports to the relevant client, based on the type on information."

For those of us who aren't familiar with this world, why is this important?

"We use this system to check almost 100 percent of containers (including empty ones). So far, only two percent of the world's containers have been checked. The system collects information over an unlimited time span and uses a variety of information-collecting methods, which provide surveillance of every container in the world."

Ovadia said that 150 – 200 million containers are transported between ports each year, with or without cargo, with many not passing an inspection of the supplier, a customs agents or security. "After 9/11, US authorities defined the world standard by stating it was necessary to have security checks for 100 percent (of shipments). What makes our systems unique is that unlike other global systems to be developed, ours are based on comparing data from technical and physical sources with other systems of information, all in real time."
Beyond surveillance and security needs
Another one of the company's products is an optics-based monitoring system for the bottom area of vehicles. Originally developed for security purposes in an effort to locate explosives and weaponry, the system was converted by STI for civilian use, in examining vehicles' compliance with standard regulations. Since the system became operational, it has become popular within the automotive industry.

Yet another product of the company's identifies pollutants in running water, with technology developed by the company and detect hundreds of chemicals in water and in real time.

"Unlike other systems that can recognize pollutants by changes in values and environmental factors, our system identifies what the pollutants are in real-time," said Ovadia. "Traditional systems analyze the pollution, recognize something is amiss, collect samples and send it to the lab. This all takes time and resources. Our system performs tests in real-time."

Who's the target audience for this product?

"It's sold to private companies that work with different authorities. It's a globally innovative technology.

"These days, we sell our different systems in roughly 20 countries around the world. Our markets are markets of corporations, giant conglomerations and so forth. Our systems include patents, most of which have already been registered. We're always looking for new solutions that rely on the experience and existing knowledge that we've gathered."
Looking ahead to future endeavors
With their current, cutting-edge technologies in place and new ones always in development, STI is among the hundreds of germinating companies receiving assistance from the Israel Export Institute in getting the word out about their products.

The Israel Export Institute's National Security, Aviation and Space Branch's Manager, Eyal Levy, stated that his branch represents around 400 Israeli companies in various international markets, offering solutions in areas such as biometric systems, control and oversight systems, gliders, anti-gliders, video analysis technology and security advice companies, among others.

Levy said that their connections with government bodies, law enforcement entities, security and intelligence agencies and potential partners from the private sector "allow us to create business opportunities for Israeli companies in the international market, such as international exhibits and business meetings that promote their abilities to reach international markets."

"STI has been working with the Export Institute for many years," said Ovadya. "As it turns out, the company's unique solutions have gained a great deal of attention from government offices, international security agencies, policing units, detention facilities and global corporations."

Ovadia noted that STI's goal is to create as many new markets and cooperation agreements with large companies as possible. "The Export Institute is doing a great job for us," he said. "Since we already have our patents, we're less hesitant to present our products, so it's important to us to reach as many companies and to show them our products."

Ovadia ended by saying that "the institute knows to connect us with corporations and companies that approach (us) with defined needs, and it is able to match the needs of those approaching and the companies' capabilities."

This article was written in cooperation with the Israel Export Institute.