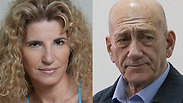 Hadas Shteif (L) and Ehud Olmert
Photo: Abigail Uzi
Journalist Hadas Shteif claimed Saturday that former Prime Minister Ehud Olmert had sexually harassed her.

"Olmert pressed me against the wall of the Channel 1 studio of the Israel Broadcasting Authority, and whispered in my ear," Shteif claimed at an event in Ness Ziona, adding he then licked her ear "with his disgusting tongue" until she pushed him away.

"I never dared to complain," Shteif, a crime reporter for Army Radio, said. She noted that the incident transpired many years ago,

"All of it is true," Shteif asserted in a Facebook post. "I told a lot of people at the time. I was disgusted. I have not forgotten, and therefore I believe all the women who dare to expose (their harassers—ed) even after 30 years and talk.

"We are in the middle of the revolution For the sake of all of our children, the granddaughters, the grandchildren of all of us. It's our responsibility. We will not be afraid, we will not hide, even at the cost of personal attacks. That's the price I'm willing to pay for the new generation."

Shteif said that over the years she had been sexually harassed by about 40 men and that she remembers each of them.

She says she did not complain against them at the time it happened so she would not be called a serial complainant and belittled, but added that she intends to reveal additional names in the coming days.

Following Shteif's allegation, MK Shelly Yachimovich (Zionist Union) posted on Facebook that during the time when former President Moshe Katsav was investigated for sexual assault and rape, a woman detailed to her how she was assaulted by Olmert.

"About 10 years ago, I spoke by a woman who told me that 20 years earlier, Olmert had sexually attacked her," Yachimovich wrote.

"A police complaint, unfortunately, was not an option because of the statute of limitations. Facebook has not yet been created, and exposure, as then as it is today, is not a simple choice for the victim."

A spokesperson on Olmert's behalf denied the allegation, saying the incident never took place.

Rachael Risby-Raz, who was Olmert's secretary, published a post on Facebook in Olmert's defense following Shteif's claims.

"Anyone who knows Ehud Olmert knows that he is a warm and kind person," she wrote.

"After more than 40 years in the public service, anyone who has ever worked with him can testify that he respects women very much and has worked hard to promote them.

"This week we discussed exactly the subject of #metoo, and I told him that as women, we know who these men are that make us feel uncomfortable in their environment. Olmert is not one of them, just the opposite.

"In my 15 years of acquaintance with him, I can testify that I have never witnesses a single case that even approached the definition of 'sexual harassment' because he is simply not that kind of person.

"Ehud is a person who embraces, respects and loves people; women and men. He is one of the best in this matter, and it's a pity (he has to go through this—ed)."