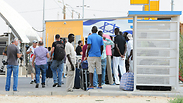 Asylum seekers at Holot detention center
Photo: Herzl Yosef
UNHCR 'seriously concerned' by plan to close Holot detention center
The UN refugee body expressed criticism over possibility that asylum seekers and illegal infiltrators from Africa would have to choose between 'voluntary' deportation or prison; it adds that 'since Israel took over refugee status determination from UNHCR in 2009, only eight Eritreans and two Sudanese have been recognized as refugees.'
The United Nations High Commissioner for Refugees (UNHCR) has criticized a proposal to close the Holot detention center in southern Israel, which houses refugees and illegal infiltrators from Africa.

The proposal is to be brought before the government on Sunday by Interior Minister Aryeh Deri and Public Security Minister Gilad Erdan, who visited Holot last week.

"UNHCR, the UN Refugee Agency, is seriously concerned by proposals announced yesterday," UNHCR said in a statement on Friday. "Under these proposals, Eritreans and Sudanese asylum-seekers and refugees would be compelled to accept relocation to countries in Africa or face imprisonment in Israel.

The proposal of forced relocation, the UN body said, "follows a ruling by Israel's High Court of Justice in August, which sanctioned the controversial forced relocation policy introduced by the Israeli Government in March 2015, provided that certain safeguards were put in place in third countries."


UNHCR estimated that since the "voluntary" deportation program's began in December 2013 and until June 2017, some 4,000 Eritrean and Sudanese infiltrators were relocated to two African countries, "named in media reports as Rwanda and Uganda."

It said Israel's policy was making it hard for the UNHCR to verify the well-being of those deported, many of whom may be at risk after once again looking for safe refuge.

"Due to the secrecy surrounding this policy and the lack of transparency concerning its implementation, it has been very difficult for UNHCR to follow up and systematically monitor the situation of people relocated to these African countries. UNHCR, however, is concerned that these persons have not found adequate safety or a durable solution to their plight and that many have subsequently attempted dangerous onward movements within Africa or to Europe."

UNHCR's Assistant High Commissioner for Protection, Volker Türk, said that "as party to the 1951 Refugee Convention, Israel has legal obligations to protect refugees and other persons in need of international protection."

According to UNHCR's estimates, roughly 27,500 Eritreans and 7,800 Sudanese currently reside in Israel. It added that "since Israel took over refugee status determination from UNHCR in 2009, only eight Eritreans and two Sudanese have been recognized as refugees by the authorities. Another 200 Sudanese, all from Darfur, were recently granted humanitarian status in Israel."

Sunday's proposal aims to shut down Holot within a few months, in accordance with an agreement that was signed with Ruwanda.

Prime Minister Benjamin Netanuyahu announced a month ago that Israel's agreement with Ruwanda had been revised, making it possible to deport infiltrators and asylum seekers to Ruwands even without their consent. The agreement was revised following the High Court's decision that infiltrators could not be detained for longer than 90 days if they refuse "voluntary deportation," as long as the agreement with the country to which they would be deported does not include forced labor.

The decision, therefore, leaves infiltrators with two options: either leave Israel or enter Saharonim Prison, also located in the Negev.

The Interior Ministry cites the yearly cost to operate Holot detention center at NIS 240 million.

On Saturday, dozens of South Tel Aviv residents demonstrated in front of the home of Supreme Court Chief Justice Esther Hayut in north Tel Aviv in protest of court rulings they feel discriminate against Israeli citizens living in their area in favor of infiltrators. Protesters held signs saying "Esther Hayut bring back the sanity" and "Rights to citizens as well."

"The people demand an Israeli High Court," said South Tel Aviv activist Shefi Paz. "We're sick of the High Court's imperviousness when faced with the continued suffering of the residents of South Tel Aviv."