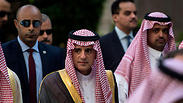 Saudi foreign minister
Photo: AFP
In a resolution long on criticism but short on concrete steps, Arab foreign ministers who met in Cairo Sunday delivered a tirade of criticism against Iran and its Lebanese proxy Hezbollah, saying Tehran was destabilizing the region.

They said they planned to "brief" the UN Security Council on Iran's destabilizing policies in the region, particularly its support for Shiite rebels in Yemen, with a view to submit at a later stage an anti-Iran Arab resolution.

In what is perhaps the only concrete measure, the ministers said Arab telecommunications satellites would ban Iranian-financed television stations for what they said was their fomenting of sectarian and ethnic tensions and because they posed a threat to Arab security. It gave no details.

"We are not declaring war on Iran at this stage," Arab League chief Ahmed Aboul-Gheit said. "We have not taken a decision to ask the Security Council to meet, but we are just briefing the council and maybe the next stage would be for us to meet and call for a Security Council meeting and submit a draft Arab resolution (against Iran)."

Lebanon, where Hezbollah is a key member of a coalition government, and Iraq, a majority Shiite nation bound by close political and religious ties to Iran, stated their reservations about the harsher parts of the resolution, including one that branded Hezbollah a "terrorist" organization. The draft also blamed the Shiite group of supporting "terrorist groups" across the region and supplying them with weapons, including ballistic missiles.

Both Iraq and Lebanon were represented at the meeting by senior diplomats, not their foreign ministers.

The Lebanese envoy to the Arab League, Antoine Azzam, made carefully weighed comments at the meeting that reflected his country's delicate religious and ethnic balance.

While not mentioning Iran by name, he said Lebanon condemned all attacks against Arab nations, but blamed exploitable inter-Arab divisions that allowed international and regional powers to promote their interests.

Saudi Arabia, a Sunni powerhouse, has significantly sharpened its anti-Iran rhetoric since its forces on Nov. 4 intercepted near its capital, Riyadh, a ballistic missile fired by Shiite rebels in Yemen who are allied with the Iranians. The Saudis said the missile was Iranian-made and declared the attack an act of war by the Iranians.

Iran denies arming the Yemeni rebels, known as the Houthis, who say they locally produced the missile.

Saudi Arabia, through its foreign minister, asked fellow Arab nations to take a "serious and honest" stand against Iranian "aggression" and "meddling" in the internal affairs of Arab countries.

Addressing the Arab foreign ministers' meeting, Foreign Minister Adel Al-Jubeir said: "Showing leniency toward Iran will not leave any Arab capital safe from those ballistic missiles."

"We are obliged today to take a serious and honest stand... to counter these belligerent policies," he added.

He said his country was targeted by a total of 80 ballistic missiles fired by Yemen's Shiite rebels since the kingdom in 2015 formed and led a coalition to fight them alongside forces loyal to the internationally recognized government there.

Saudi Arabia, added Al-Jubeir, will not stand idly by in the face of Iran's "blatant aggression."

The ministers, according to the final statement, said they supported any action to be taken by Saudi Arabia to protect its national security, within the boundaries of international legitimacy.

Speaking before Al-Jubeir at the 20-minute session broadcast live, Aboul-Gheit, the Arab league chief, was just as critical of Iran as the Saudi minister. Alluding to the Nov. 4 attack, he said it delivered a message to Arab nations that their capitals were within the range of Iranian missiles.

"We say it in clear terms that Iranian threats have exceeded all boundaries and are pushing the region toward the abyss ... (Iran's) missile program poses a danger to the region," said Aboul-Gheit.

Bahrain's foreign minister, Sheikh Khalid Bin Ahmed Al Khalifa, urged strong action by the Arab League against Iran. In the absence of such support, he said, his country would have no choice but to rely on the protection of its Western allies, citing the US 5th Fleet headquartered in Bahrain and naval ships patrolling the Persian gulf.