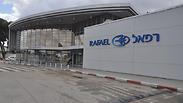 Rafael Advanced Defense Systems
Photo: George Ginsburg
Report: Indian gov't backs out of $500m Rafael missile deal
Indian newspaper claims country's Defense Ministry backs out lucrative defense contract with Rafael Advanced Defense Systems to manufacture Spike anti-tank missiles on-site in India; 'We have yet to receive official word regarding cancelation, work carries on as planned,' says Rafael.
The Indian Ministry of Defense reneged on an lucrative deal signed with Israel's Rafael Advanced Defense Systems to purchase half a billion dollars' worth of Spike anti-tank guided missiles, the Indian Express reported Monday.

Previously considered as a flagship deal that cemented the budding Israeli-Indian security relationship, its finalization was awaiting signatures by representatives of both countries after pricing negotiations were concluded last year.

Rafael entered into a joint missile production project with the Indian-based Kalyani Group and the missile manufacturing facility, situated near Hyderabad, was inaugurated this past August.

Sources within the Indian Ministry of Security told Indian Express the decision pull out of the deal was stemmed from fear that importing such weapons could have a negative impact on the program to develop weapons system by the ministry's Defense Research and Development Organization, which develops weapons in-house for the Indian army.

Meanwhile, Rafael said that the company had not been informed of the abrupt change.

"We have not been officially notified of a change regarding the deal. The Spike missiles system, currently in use in 26 countries, was selected by India after a prolonged process as part of which the system was tested with great success against a wide range of operational scenarios," a statement from Rafael said.

"After negotiations concluded, we even created a manufacturing infrastructure—along with the Kalyani Group and the BDL company—and a knowledge and manufacturing-sharing process has begun, as part of the (Indian government's) 'Make in India' conditions. Rafael is currently continuing to operate according to the set program," the company further said.