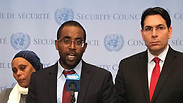 Ilan Mengistu with his mother and Danny Danon
The family of Abera Mengistu—who has remained in Hamas captivity since voluntarily crossing the border into Gaza in 2014—addressed the UN at its headquarters in New York Monday, calling for international pressure to be exerted on the terror group to release their son.

"We call upon the international community to use its full weight to help in the release of our son," the Ethiopian-Israeli family said during a press conference.

"We call for a special UN discussion and for a resolute decision that will ensure that international rescue organizations will be allowed to visit Abera," said Mengistu's bother, Ilan.

Since Abera was captured, Hamas has persistently refused to provide any word on his wellbeing.

"Hamas is cruelly playing with the fate of a civilian who has mental problems, who never did anything wrong to anyone. This is completely contrary to basic human morals and all laws, either conventional or international," Ilan continued.

"My brother is alive. He is helpless and he is in need of your help," he appealed to those in attendance.

"Look at my mother. Like all mothers, she also deserves to know what has happened to her son. We call upon the international community to exert pressure on Hamas."

Israel's ambassador to the UN, Danny Danon also spoke during the press conference, slamming Hamas for its "cruelty."

"Hamas is refusing to give any sign of life to the Israeli families that are constantly suffering. We are here today with the mother and brothers of Abera in order to demand an answer. Anybody who calls for an end to the humanitarian situation in Gaza must also call for the release of Israelis cruelly held in Hamas's hands," Danon said.

"Israel will not stay silent until all its citizens and soldiers are returned," he said in a reference to Oron Shaul and Hadar Goldin, whose bodies were abducted by Hamas during Operation Protective Edge in 2014 and never returned.

"Hamas is also holding the residents of Gaza as hostages. Instead of supplying them with education and a comfortable life, they invest in digging terror tunnel and building missiles that prevents them from having the chance to have a good life.

Speaking earlier in an interview with Ynet, Ilan Mengistu explained that the family's central goal was to convey the message to human rights groups that they had an obligation to take the issue in hand and use their abilities to bring Abera home.

"We will demand from the UN, which deals with humanitarian issues in the Gaza Strip, that Abera will also not be forgotten. They also need to worry about his life and wellbeing," Ilan said.

At the end of last week, the Mengistu family also met in the White House with President Donald Trump's special Middle East Envoy, Jason Greenblatt.

After the meeting Greenblatt posted a prayer on his Twitter account, both in English and Hebrew, for Abera's speedy return, accompanied with a picture of him with the Mengistu family and one of Abera himself.

"Today I welcomed the family of Avera Mengistu to the White House. Avera has been held by Hamas in Gaza for over 1,000 days since he disappeared in September, 2014. It is outrageous that Hamas will not let him return home or communicate with his family," Greenblatt wrote on the tweet.

The Mengistu family will continue their efforts to enlist support in the US for their son this week, with meetings arranged with leaders of Jewish organizations in New York.

On Tuesday, they are scheduled to meet with diplomats from the US, Ethiopia, the EU and the Red Cross.