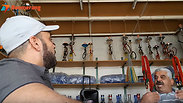 Tubi and Hassan
Photo: Boomerang
Ezri Tubi from the settlement of Yitzhar saw Hassan, a local store owner in Huwara, dancing to the music of Israeli crooner Haim Moshe and took the opportunity to join him in dance.
The reality of life in the West Bank often creates surreal situations that are hard to ignore. A few days ago, Yitzhar resident Ezri Tubi, armed with a video camera, came to the nearby Palestinian town of Huwara intending to document the daily life of the local residents.
Tubi stopped at a nargilah shop when he noticed the owner of the shop dancing to the music of Haim Moshe.
צילום: Boomerang
Tubi turned on his camera and sat down for a chat with Hassan the owner.
"Why do you always throw stones at us from Yitzhar?" asked Hassan.
"It is you guys who throw stones at us," Tubi insisted. "We all make trouble, why is that so? In the past, the Jews would shop here and (you) made a living."
Hassan mentioned that he enjoys the music of Israeli singers Zahava Ben and Haim Moshe. He turned on the latter's CD and belted out the tunes like a regular fan.
The two then broke out in dance together.
Tubi is the founder of Boomerang, a hasbara (Israeli public relations) organization, and he creates viral videos that have earned thousands of hits over the years.
"When I travel through Huwara, I often see Hassan dancing to Israeli music, and this time I decided to stop. Many tell me that I am crazy because it's dangerous, but I have no problem dancing with Hassan, Mustafa or Ahmed on a personal or human level. I have found a common denominator with many of our Arab neighbors and feel at ease in my interactions with them. The problem starts when it comes to national identity, that's when we are on opposite sides of the aisle" explained Tubi.