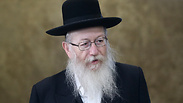 Health Minister Yaakov Litzman
Photo: Alex Kolomoisky
Health Minister Yaakov Litzman (United Torah Judaism) is expected to hand in his resignation to Prime Minister Benjamin Netanyahu on Sunday morning amid the crisis over train works done on Shabbat.

"It's a matter of values and principles," a UTJ official told ynet. "The Likud Party did not heed Litzman's warnings over the past two months over the issue of train works on Shabbat—and this is the price."

Train works done Saturday at the Tel Aviv-Savidor Center Station (צילום: חגי דקל)

Infrastructural and maintenance work on the train done on Shabbat has long been a thorn in Litzman's side.

In an effort to appease him and his party, Labor Minister Haim Katz (Likud) announced he had greatly reduced train works and authorized only essential work to be done on the train on Shabbat, to ensure rail safety.

"This decision reflects complete consideration for the feelings of the religious public on the one hand, and maintaining the routine of the train users on Sunday on the other," said Katz.

While Litzman said his party would remain in the coalition following his resignation, political officials expressed concerns on Saturday night that the crisis would lead UTJ to quit the coalition as well.

The current crisis surrounding weekend train works began two weeks ago. The Haredi parties felt the Israel Railways was not sensitive to their needs, leading Litzman to call Netanyahu and set an ultimatum: he would resign from the government if Shabbat train works continue.

As a last minute solution, it was decided last Friday to only have non-Jewish workers carry out the Shabbat works, but the Haredim did not consider this to be an acceptable permanent solution.

On Wednesday of this week, Haredi MKs threatened the coalition would be dismantled if non-vital train works are done on Shabbat.

Following negotiations that lasted well into the night Wednesday and continued on Thursday morning between the Haredim, Labor Minister Katz and the Israel Railways, it was decided to greatly reduce works on the train this weekend in an effort to prevent further escalation of the political crisis.

The Haredi parties have escalated their protests of train works on Shabbat over the past year. Three months ago, UTJ's Litzman and Moshe Gafni and Shas leader Aryeh Deri sent a strongly-worded letter to Netanyahu over infrastructural work done at the Tel Aviv HaShalom train station.

"These works constitute a very serious precedent and flagrant violation of the status quo," they wrote. "In light of the urgency, and since we cannot be held accountable for the government desecrating the Sabbath, we request that you immediately postpone the works."

Last July, Minister Haim Katz halted planned infrastructural work for a new signaling system for the trains because they were scheduled to be carried out during The Three Weeks, a period of mourning commemorating the destruction of the Jewish temples.