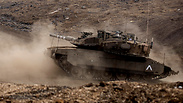 First female tank combat soldiers to be deployed
A historic moment in the IDF as 13 female tank combat recruits to complete training; they will be assigned to the southern border; IDF stresses they will not be deployed to the battlefield but only to the borders of countries with which Israel has peace.
After eight intense months and amid fierce opposition to the initiative, the first group of female tank combat recruits will complete their training in a week, and for the first time a female tank unit will patrol the border.
The female tank fighters began their basic combat training in March together with the IDF's co-ed Caracal Battalion. Fifteen soldiers began basic training but two withdrew during the first week.
After basic training, the 13 remaining fighters transferred to the tank training base in Shizafon, southern Israel, and were divided into squads, each headed by a senior tank commander.
Their training was conducted using the Merkava Mark III tank.
A senior Ground Forces officer explained the women's training was unlike the usual tank training (squad-platoon-company maneuvers) but rather focused on the basic tank roles. The reason being that the female soldiers will be stationed on Israel's peaceful borders and will not join the fighting IDF tank brigades.
He further explained that the female fighters will be defending Israel's southern borders, and in the event they will be required to return fire, it will be from stationary positions.
In the coming month, the 13 fighters will be absorbed into the IDF Southern Territorial Division and divided into three tank squads.
The IDF will then determine how well they are performing their assigned duties and whether the investment is worth it for the army. Only then will a decision be made whether to continue drafting women to the tank units.
In any case, the IDF stressed, even if the program is continued, there will be no female tank fighters in Lebanon and Gaza, nor will there be co-ed tanks but rather all-female tank squads.
Among the opponents to the project is Brig. Gen. (ret.) Avigdor Kahalani who argued that "There is no reason in the world to place women in the role of tank fighters, to storm the trenches with a 'knife between their teeth,' no reason whatsoever. There are sufficient men who will do the work."
Maj. Gen. (res.) Yiftach Ron-Tal expressed similar sentiments, saying that "the system has gone mad."