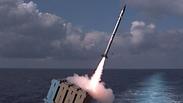 Naval Iron Dome
Photo: IDF Spokesperson's Unit
The maritime Iron Dome missile defense system was declared operational Monday by the IDF's Navy and Air Force after 18 months of rigorous preparations and examinations, and a series of successful interception attempts carried out at sea.

The tests included launching Grad rocket-like projectiles to ranges of dozens of kilometers, simulating rockets launched from the Gaza Strip in previous conflicts.

According to senior air force and navy officers, the interceptions were successful both when it came to single launches and to barrages of projectiles launched as part of the test.

Footage of the naval Iron Dome's tests

The maritime Iron Dome system was created to defend Israel's maritime economic water zone, with an emphasis on the gas drilling rigs already threatened by Hamas rockets during Operation Protective Edge.

The Iron Dome battery has been installed aboard the Sa'ar 5-class INS Lahav corvette's helipad.

The IDF explained the system was created to bridge the operational gap in protecting the rigs over the next two years. The shrtfall in the defense of the rigs was created as a result of expected delays in the arrival of new defensive ships from Germany.

The maritime model of the Iron Dome has also been synched with the "Adir" naval radar aboard INS Lahav, as well as with detection systems on the beach, with the two systems complementing and backing one another.

The naval battery will be operated by a unique troop, created within the new Iron Dome battalion that itself was only formed this past September.