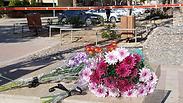 Flowers laid to mourn the 19-year-old soldier
Photo: Roee Idan
Candles lit, flowers laid as Arad's residents mourn slain IDF soldier
Residents of the usually tranquil southern city in Israel struggle to come to terms with the murder of Ron Yitzhak Kokia, a 19-year-old IDF soldier, in what is believed to be a terror attack; 'This boy could have been my soldier, or another boy from within or outside the community,' says woman visiting scene of the stabbing.
Residents of the usually tranquil city of Arad are struggling to come to terms with a stabbing attack that claimed the life of a 19-year-old IDF soldier Thursday night, in what was believed to be an act of terror.
People from across the southern city, which had not, until Thursday, been struck by the wave of terror, flocked to the scene to lay flowers and light candles where Ron Yitzhak Kokia—a 19-year-old soldier from Tel Aviv who served in the Nahal infantry brigade—was stabbed to death while waiting for a bus outside a mall.
Ilana Krispel was sitting with her family when she heard about the attack. "Suddenly I saw on Facebook that there were loads of policemen and ambulances. My friend who lives nearby told me that they had stabbed a soldier," she recalled.
"I wouldn't let me children go out and I closed the doors. This is the first time that something like this has happened in Arad," she continued. "I hope it's the last time. I am upset for the soldier and his family."
Another resident, Ayala Schwartz, who also visited the scene of the murder to light a candle for Kokia, described her feelings after the usually calm city had been subjected to the horrors of terror.
"I was in an emotional turmoil. It is a difficult experience for everyone in the country," she said. "A life that was plucked so prematurely and in such a cruel way. It is a feeling of helplessness, but also one of togetherness."
According to Ayala, the attack forces residents to confront the conflicting forces of emotion and rationality.
"Rationally, we thought this could also come to Arad. Arad isn't protected any more than any other place. The opposite. It's possibly even more vulnerable," she explained.
"From an emotional point of view, you hope that you won't be in this kind of situation or near an incident like this. The feeling is that it won't happen to me. Then it smacks you in the face."
Like most mothers in Israel, Ayala also has a son who serves in the IDF, a fact that she says enables most people to relate.
"This boy could have been my soldier, or another boy from within or outside the community," she said, adding that the frequency of attacks in Israel does nothing to alleviate the pain when terror strikes.
"It demands preparation that is not new in our country, but it hurts every time. It isn't something you get use to and it isn't something that should be gotten used to," she said.
"We came to light a candle to remember Ron. If yesterday it was just a soldier, today he has a face. Ron, who is 19, whose (only crime—ed) was to stand by a bus stop."
Some of the late soldier's friend took to social media to express their grief.
"You were my best friend. I cannot believe I'm talking about you in past tense," Wrote Kokia's friend Sapir in an emotional post, adding she will miss "the endless joy of life that you had, an enchanting smile that never left your face and of course your heart of gold."
"You were a hero and you stayed one. I know you'll protect me from above," she concluded.
In another post published by a friend who served with Kokia in basic training, the friend wrote: "How hard the pain is when it's so close. You were my closest friend during basic training in the Nahal Brigade. You were an innocent and amazing person and I cannot imagine how hurt you were at that moment. We have accumulated a lot of experiences in a short time. I will remember you forever and will always love you."
The soldier's family agreed to donate the corneas of Kokia's eyes.
"Our whole family registered as donors. Saving lives is a supreme value," said Boaz, the soldier's father.
Kokia was posthumously promoted from the rank of corporal to Sergeant. His funeral will take place on Sunday at 12pm at Kiryat Shaul Cemetery.
More than 250 policemen and soldiers were deployed across Arad on Friday morning, while security forces combed the city, determining that the culprit or culprits responsible for the attack were no longer in the area.