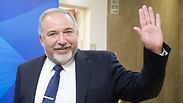 Defense Minister Lieberman
Photo: Emil Salman
Defense Minister Avigdor Lieberman stressed Monday that his Yisrael Beytenu party has no intention of quitting the coalition government over the so-called "supermarkets bill."

The bill would give the interior minister the authority to cancel municipal bylaws, including ones concerning the opening of businesses on Shabbat. It will not apply, however, to existing bylaws approved by the High Court, such as the ones allowing supermarkets to remain open in Tel Aviv.

Lieberman and his fellow Yisrael Beytenu party member Minister Sofa Landver were the only ones to vote against the bill at the government meeting on Sunday. The bill nevertheless passed in the Ministerial Committee for Legislation as well.

"We don't think it's right at this time to drag the country to early elections. At the current sensitive security situation, it's wrong for someone in the current coalition to bring down the right-wing government," Lieberman said during an Yisrael Beytenu party meeting on Monday.

He added that "if this government does go to early elections, it would be because of the Haredi parties who made unilateral declarations about the Shabbat, the draft law, and the supermarkets bill."

Lieberman announced last week that his party would vote against the bill proposal in the Knesset. On Monday, he took credit for the fact the legislation, which was supposed to be brought to a vote in the Knesset, has been removed from the lawmakers' agenda.

"I hope we will be able to stop the legislation in the future as well, as it truly is a blatant violation of the status quo, a blatant violation of everything we've gotten used to in recent years," Lieberman said.

"The interference of the national government in the affairs of the local government is undesirable," he added. "Any mayor in any city knows better (what would benefit their city). There is no reason to open a convenience store on Shabbat in Bnei Brak, and there is no reason to close one in Rosh Pina. Each place (should decide) based on the nature and character of the community."