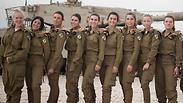 IDF's first tank operators
Photo: IDF
After eight months of grueling training, history was made this week when 13 female soldiers received badges making them the first female combat tank operators in the IDF's Armored Corps.

The soldiers will soon start the next chapter of their military service—a four-month-long trial deployment on Israel's southern border.

"We are witnessing a small bit of history being made today," said Col. Moran Omer, commander of the Armored Corps' training division, at a ceremony held Tuesday at the Armored Corps Memorial Site and Museum in Latrun. "For the first time, we will pin the tank operator's badge on the lapel of female IDF soldiers."

"You were chosen to participate in a special training program that examined the integration of women in tank combat roles—for the purpose of protecting the borders," Omer told the soldiers.

"We then demanded that you complete the full and long training program, after being fully trained as fighters in the border defense apparatus—a task that is not simple in and of itself.

"You withstood the complex physical challenges, learning the profession and, no less important, learned to appreciate the power of steel and the ability to operate such a sophisticated system.

"We still have a long road ahead of us, but you have proven to us that there's no such thing as impossible—you faced the challenge with a smile on your face, and we are all proud of your achievements."

At the end of his speech, the colonel asked the newly certified tank operators to "wear the tank operator's pin with pride. Starting today, you will be the first female Armored Corps soldiers in the border defense apparatus. Though, always remember that as advanced as they may be, these are not the weapons that matters, but the person in the tank—she will win."

15 soldiers were chosen co-ed mixed infantry battalions and moved to the training base of the Armored Corps in the Shizafon Armored Corps Training Base, where they were trained for combat duty in the tank for four more months. Two of them dropped out during the training.

The new tank operators will be deployed on the southern border, serving in a newly formed border defense force unlike other, tasked solely with protecting the border without crossing it.

This year, the IDF completed the establishment of the three new co-ed battalions entrusted with border defense.

During 2017, some 2,700 young women enlisted for combat duties, breaking the previous record for annual women enlistment in IDF combat roles.

The army clarified that the considerations for integrating combat soldiers into armored vehicles stem from an operational need, since armored forces are integrated into ongoing security missions at the borders.