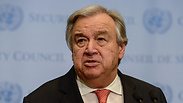 Antonio Guterres
Photo: AFP
Major US allies came out against President Donald Trump's "unilateral" decision to recognize Jerusalem as the Israeli capital and move the US embassy from Tel Aviv to the holy city, warning it could severely destabilize the region and thwart peace prospects.

UN Secretary-General Antonio Guterres spoke out against Trump's "unilateral measures," which he says jeopardize the prospect for peace for Israelis and Palestinians, adding that the issue of Jerusalem must be resolved through direct negotiations between the two sides.

"In this moment of great anxiety, I want to make it clear: there is no alternative to the two-state solution. There is no Plan B," Guterres told reporters.

Guterres noted he'd do "everything in my power" to promote the return to negotiations by Israeli and Palestinian leaders "and to realize this vision of a lasting peace for both people."

Bolivia, Egypt, France, Italy, Senegal, Sweden, United Kingdom and Uruguay have asked Secretary-General Antonio Guterres to brief the 15 members of the UN Security Council in an emergency meeting this week over the declaration.

The European Union echoed Guterres' concern, with EU Foreign Affairs Chief Federica Mogherini saying that "the aspirations of both parties must be fulfilled and a way must be found through negotiations to resolve the status of Jerusalem as the future capital of both states."

British Prime Minister Theresa May's spokesman said she disagrees "with the US decision to move its embassy to Jerusalem and recognize Jerusalem as the Israeli capital before a final status agreement," and believes "it is unhelpful in terms of prospects for peace in the region."

Theresa May addresses House of Commons ahead of Trump's speech

However, May's spokesman welcomed Trump's stated wish to end the conflict and his acknowledgement that the final status of Jerusalem, including boundaries within the city, must be subject to negotiations between Israelis and Palestinians.

German Chancellor Angela Merkel also came out against Trump's declaration. "The German government does not support this position, because the status of Jerusalem is to be resolved in the framework of a two-state solution," she was quoted as saying in a tweet by the government spokesman.

French President Emmanuel Macron also called Trump's decision "unilateral," saying it is "regrettable" and stating that "France does not approve of and goes against international law and all the resolutions of the UN Security Council."

"The status of Jerusalem is a question of international security that concerns the entire international community. The status of Jerusalem must be determined by Israelis and Palestinians in the framework of negotiations under the auspices of the United Nations," the French president added.

Macron, who has developed a good working relationship with Trump since taking office in May, spoke to the US leader earlier this week to try to convince him to change his mind.

"France and Europe are attached to a two-state solution—Israel and Palestine—living side by side in peace and security within recognized international borders with Jerusalem the capital of both states," he said, adding that Paris was ready to work with partners to find a solution."

"For now, I urge for calm and for everyone to be responsible. We must avoid at all costs avoid violence and foster dialogue," Macron concluded.

Prime Minister of Italy Paolo Gentiloni echoed Macron's comments, stressing that the status of Jerusalem must be "defined in the framework of a peace process based on the two-state solution."

Pope Francis joined the chorus of condemnation, warning of an historic misstep that could trigger a surge of violence following Trump's declaration.

"I cannot silence my deep concern over the situation that has emerged in recent days," the pontiff said Wednesday, one day after speaking by phone with Palestinian President Mahmoud Abbas.

The pontiff added that maintaining Jerusalem's status quo was important "in order to avoid adding new elements of tension to an already volatile world that is wracked by so many cruel conflicts."

Mexico's Foreign Ministry said in a statement it will keep its Israeli embassy in Tel Aviv and will continue to adhere to UN resolutions recognizing the status of Jerusalem.

"Mexico will continue to maintain a close and friendly bilateral relationship with the state of Israel, as evidenced by the recent visit of Prime Minister Benjamin Netanyahu to our country, and will also continue supporting the historical claims of the Palestinian people," the statement read.

Australia's Foreign Minister Julie Bishop said Thursday she is "concerned by any unilateral action by either side which could add to tensions."

"The Australian government remains committed and optimistic that the way to achieve enduring peace between the Israelis and Palestinians is a negotiated two-state solution," she added.

She also said Australia doesn't intend to shift its embassy from Tel Aviv.