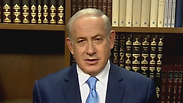 Prime Minister Netanyahu
Photo: GPO
Netanyahu sees 'many' nations following US move on Jerusalem
Israel's Foreign Ministry and diplomatic missions abroad putting out feelers to friendly countries around the world in hope of convincing them to follow Trump's lead on Jerusalem; Czech Republic says it recognizes western Jerusalem as Israel's capital.
Prime Minister Benjamin Netanyahu said Thursday Israel is holding initial talks with other friendly nations in an effort to get them to follow US President Donald Trump's lead in recognizing Jerusalem as Israel's capital.

"I would like to announce that we are already in contact with other countries which will issue a similar recognition," Netanyahu said in a speech at the Foreign Ministry without naming any of these countries.

"I have no doubt that the moment the American Embassy moves to Jerusalem, and even before then, there will be a movement of many embassies to Jerusalem. The time has come," Netanyahu said.

The prime minister added that "President Trump has immortalized himself in the chronicles of our capital. His name will now be held aloft, alongside other names connected to the glorious history of Jerusalem and of our people."

In his speech on Wednesday, Trump said acknowledging Jerusalem is the capital of Israel "is a necessary condition for achieving peace," and expressed support of the two-state solution—if both sides wish it.

Following the declaration, Netanyahu called on other countries to follow the US's lead.


The Czech Republic said Wednesday night it "recognizes Jerusalem to be in fact the capital of Israel in the borders of the demarcation line from 1967."

The Czech parliament passed a decision in May calling on the Czech government to recognize Jerusalem as Israel's capital.

In a statement following Trump's declaration, by the Czech Foreign Ministry said "The Czech Republic together with other EU member states, following the EU Foreign Affairs Council Conclusions, considers Jerusalem to be future capital of both states, meaning the State of Israel and the future State of Palestine."

"The Ministry can start considering moving of the Czech embassy from Tel Aviv to Jerusalem only based on results of negotiations with key partners in the region and in the world," the statement added.

Meanwhile, Israel's Ministry of Foreign Affairs and Israel's embassies abroad have already began putting out feelers to see if other nations were willing to follow suit and recognize Jerusalem as Israel's capital, as well as move their embassies to the holy city.

Among the nations approached there will likely be several Christian countries in Africa amid recent warming of ties following Netanyahu's visit to the continent. Israeli officials also hope Philippines President Rodrigo Duterte will follow Trump's leader.

Reuters contributed to this report.