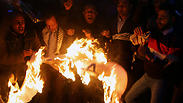 Archive photo of protests in Egypt
Photo: EPA
German Justice Minister Heiko Maas said there was no place for anti-Semitism in Germany after demonstrators angered by US President Donald Trump's decision to recognize Jerusalem as the capital of Israel burned Israeli flags in Berlin.

Hundreds of people gathered outside the US embassy in the German capital for "Day of Rage" protests on Friday. Police later said on Twitter that they had detained 10 people during the protest and 12 criminal charges had been brought—including for burning Israeli flags.

Maas told Bild newspaper's Monday edition: "Any kind of anti-Semitism is an attack on everyone. Anti-Semitism must never be allowed to have a place (in society) again."

Anti-Semitism remains a very sensitive issue in Germany more than 70 years after the end of the Nazi-era Holocaust, in which six million Jews were killed. Germany regards itself as one of Israel's closest allies.

German Foreign Minister Sigmar Gabriel told Bild that while criticism of Trump's decision was understandable, people had no right or reason to burn the Israeli flag, stir up hatred against Jews or question Israel's right to exist.

He said whoever did this nonetheless was "taking a stand not only against Israel but also against the German constitution" and Germany would not tolerate that.

Gabriel said Germany only permitted peaceful demonstrations and would not allow conflicts in which people were prepared to use violence to be brought to Germany from other countries and played out here.