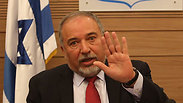 Lieberman
Photo: Gil Yohanan
The world is expressing interest in Israeli technology that targets underground tunnels, Minister of Defense Avigdor Lieberman said Sunday

"Many are interested in this technology but (for now), we are focusing our efforts on the threat in the south," Lieberman told Yedioth Ahronoth.

"The most important thing is our security, and we are not yet ready to share our methods in combating terror. Additional research and technological updates are still necessary," he added.

Behind the military's ability to detect and neutralize two terror tunnels dug under Israeli territory over the last month and a half stands an original Israeli innovation developed by the Israel Military Industries and Elbit Systems.

The system involves a series of sensors and complex algorithms that analyze the gathered data and enable precise detection of tunnels. The system's precision is still being improved since the IDF began using it on the Gaza border; it has yet to reach peak efficiency.

Before arriving at the current system, the Ministry of Defense tested all existing technologies that were proven to be able to detect tunnels, including seismographic sensors that detect the minor tremors in the ground that are caused by digging; miniature microphones that detect the sound of digging; radar and other types of sensors.

Like the Iron Dome that was developed rapidly over two years, the tunnel detection system has also been developing rapidly. According to foreign sources, the Ministry of Defense spent more than $60 million over the last five years on its development.

After it was cleared for publication Sunday that the IDF discovered and destroyed yet another cross border tunnel, Lieberman said, "The terror tunnels crossing into Israel and hurting our sovereignty are a threat we cannot accept, and we will invest any resource to foil it. Thanks to a joint effort of the IDF, Defense Ministry and defense industries, we have reached new technological capabilities in fighting tunnel terrorism. I sincerely hope within the next few months the threat posed by tunnels to residents living on the Gaza border will become a thing of the past."

In a statement issued Sunday morning, Hamas' military wing warned that "the enemy will pay for the aggression and crimes against our people. The enemy must be afraid and know that it will pay the price of breaking the rules of the conflict with the Gaza resistance.

"The coming days will make it clear to the enemy how wrong it was in estimating the resistance's willpower. The enemy's leaders and its decision makers must understand the extent of their foolish management of the battle against the resistance. We promise them that we will make them bite their fingers in regret over their misjudgments regarding the resistance's silence and the way they are waging the battle."