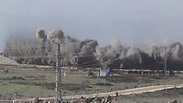 Golan minefields
Photo: GPO
The Landmines Removal Agency detonated a chain of 300 landmines in the Golan Heights in a controlled explosion at noon on Monday.

This was the biggest explosion thus far in the Ministry of Defense's current campaign to clear the Golan Heights of landmines.

צילום: לע"מ

The campaign began in August and is expected to last three years at a cost of tens of millions of shekels. Thousands of landmines, in an area encompassing 2,000-3,000 dunams—about 10 percent of the Golan minefields—are expected to be cleared.

The land cleared will be transferred to the jurisdiction of the Golan Regional Council and to the town of Majdal Shams to be used for agriculture, tourism or other civilian uses.

The landmines were buried by the Syrian army half a century ago. Though they are relatively small mines, they can cause a lot of damage. Recently there has been concern that the mines will rise in a flood, float and move, endangering hikers in the area.

Throughout Israel there exist thousands of anti-man and anti-tank minefields that were placed over the years for tactical purposes. Some are not in use anymore and others were placed by the armies of Syria, Jordan or Egypt. To date, some 200,000 mines were removed in an area of 9,000 dunams, from the north to the south of the country.