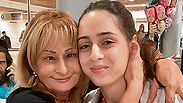 Dalia Bassa (L) with Dr. Rinad Elyan, a Palestinian intern at Hadassah
Photo: Ohad Zwigenberg
'If there were just one more Dalia, there would be peace by now'
In her job as the Civil Administration's health coordinator, Dalia Bassa wasn't supposed to save the lives of hundreds of Palestinian children, visit them in hospitals, take them on trips and treat them as the children she never had. But one thing led to another, and the woman known as 'Angel' on the Palestinian street receives phone calls at all hours of the day and night—and always picks up.
Most Israelis don't know Dalia Bassa, but on the Palestinian street she is known as Malak— or "angel" in Arabic. Her cell phone number is passed down by word of mouth and she gets calls at all hours of the day. The angel picks up even at 3 am.

Bassa, 66, is the Civil Administration's health coordinator at the Coordination of Government Activities in the Territories (COGAT). Her official job is to sit comfortably in her office and coordinate between the Palestinian and Israeli health ministries. She wasn't supposed to save the lives of hundreds of Palestinian children, visit them in hospitals and take them on trips, and she was definitely not supposed to turn them into the children she never had.

Bassa's career began 47 years ago at the Military Governorate's offices in east Jerusalem. Over the years, she combined her work with Arabic studies and received an associate degree in health systems administration and human resources. She has been working as health coordinator for the past 19 years.

"After the Oslo Agreement in 1994," she says, "we prepared all the files and information and handed over the responsibility for health issues to the Palestinian Authority (PA). I was then appointed deputy coordinator, and about three years later I was promoted to coordinator.

"At first, things went well. There was a time when we used to sit together with the PA representatives and help them develop the Palestinian health system. Over time, terror attacks and other events led to crises, and the coordination was nearly cut off. In 2002, after Operation Defensive Shield, everything was breached, and Palestinian residents who had no one to turn to began approaching me directly."

The first appeals arrived at her office in the Civil Administration near Beit El. "I got a call from security, asking if I had invited anyone for a meeting. I said I hadn't and went downstairs to see what it was all about," she recalls.

"Standing in front of me was a father with a child in his arms. He explained that the child was two years old, although he looked only a few months old, and pointed at his son's sick feet. I quickly took his details and went up to the office. I sat there and began racking my brains, asking myself what could I do to help. I had to find a suitable hospital that would agree to care for the child, as well as funding sources."

Bassa found a solution for both problems, and the infant underwent successful surgery.
'Go dig a grave for your child'
After she helped one person, the next ones came along, some arriving at the office and others reaching her by phone. Today, Bassa has two cell phones—a regular Israeli one, and one which can receive calls from anywhere in the Palestinian Authority. She carries both devices with her wherever she goes, allowing her to immediately handle any case in which a Palestinian's life is in danger and he cannot be saved at a PA hospital.

That's how she helped save the life of Saja Hamamra of the village of Husan, near Bethlehem. "Saja was in very serious condition," says her uncle, Imad al-Batha. "At the age of 15, her kidneys stopped functioning, and she started undergoing dialysis treatments three times a week. We looked for someone to help us and couldn't find anyone, until we heard about Dalia.

"I got her phone number and told her about Saja. She came to meet her several times at the Augusta Victoria Hospital in Jerusalem and followed up on her medical condition. It was a huge surprise for us. Suddenly, someone wants to help us, calms us down and promises us that everything will be okay."

When Saja's situation deteriorated, Bassa made the arrangements to transfer her to the Hadassah and Shaare Zedek hospitals in Jerusalem for different tests.

"Following kidney failure, her liver was affected too," she explains. "It was determined that she would need a liver transplant followed by a kidney transplant. The Civil Administration managed to raise funds for the transplant, and we searched for a donor. Saja's father was found fit to donate a liver lobe. I coordinated the transplantation with the Beilinson Medical Center and the Health Ministry's National Transplant Center, and we saved Saja's life. Look what a sweet girl she is today."

Saja is already 26 years old and is studying health administration at a university in Bethlehem. "If I hadn't met you, I wouldn't be alive today," she says to Bassa in Arabic and hugs her. "I love you. Thanks to you, I'm here, alive and happy, without any pain, without dialysis. Thank you, Dalia."

As soon as 12-year-old Lujan al-Hayat sees Bassa, they become inseparable. Bassa caresses and hugs her, and Lujan clings to her.

Lujan had her first stem cell transplantation at the age of three, after being diagnosed with leukemia. Bassa met her for the first time a year later, "at a trip to the safari for Palestinian kids who were treated in Israel. We organize four trips throughout the year, together with different associations," she says.

"She's a sweet girl, Lujan. I kept in touch with the family, and several months after the trip they told me the chemotherapy and the transplantation had failed. The doctor who treated her made it clear to me that she was on the verge of death.

"I understood we had to look for another donor, not a member of her family this time. I turned to Ezer Mizion (an Israeli health support organization). They found in their registry a woman soldier in compulsory service who would make a suitable donor. The soldier agreed to donate, we raised the money, and the transplantation was performed successfully. Seven years have passed, and look how beautiful Lujan is. She's the best."

"I remember three trips with Dalia," Lujan says, "to Mount Hermon, to the safari and to Jaffa. We saw a show and then went bowling and I won."

"Lujan is like a child of mine," Bassa adds. "As far as I'm concerned, they're all my children. I have something in my heart for them. When I meet them, I get excited. As the years go by, I try to follow up on the children's condition and find opportunities to meet them. Have you seen how happy Lujan is?"

Muhammad Daadoua will never regain his good looks. Several months ago, the three-year-old boy fell into a boiling pot of grape syrup and was severely burned. The PA referred him to a hospital in Nablus, very far from his home in Beit Jala.

"His transfer wasn't coordinated with me," Bassa says. "He was rushed in an ambulance from Beit Jala to the checkpoint, and the soldier saw how serious his condition was and let him cross immediately. His father called me from the hospital in Nablus on Friday afternoon and begged me to help. He said the doctor there had said to him: 'Go dig a grave for the child. He won't live.'"

What did you do?

"I checked with Hadassah and they agreed to take him in, and I spoke to the PA and they agreed to fund his hospitalization, but then I couldn't find a way to transfer him from Nablus to Ein Kerem. The Red Crescent and Magen David Adom (MDA) didn't want to take responsibility for transferring a child in such serious condition. No one wanted to be accused of killing a Palestinian child.

"MDA asked the army to look into the possibility of a helicopter evacuation. The army agreed, but asked who would fund it. When it's not an emergency evacuation from the ground, the army demands a reimbursement. We're talking about some tens of thousands of shekels. After the PA refused to pay, I didn't know what to do. But there's no problem that can't be solved. I know how to get angry when I have to."

Bassa turned to the division's doctor, who agreed to drive Muhammad. "He transferred him in a military ambulance to the Hizma Checkpoint, where an MDA ambulance was waiting for him. We were on the phone with the Hadassah doctor the entire time, receiving live instructions. It was Friday evening. At the hospital, doctors fought for his life. The burns covered nearly his entire body. Today, Muhammad is already home. He has to undergo skin grafting every few months, but he's alive. Dancing. Happy."
Unfazed by criticism
There are many others like Saja, Lujan and Muhammad. According to the Health Care Coordinator Office at the Civil Administration, about 5,000 Palestinians receive life-saving treatment at Israeli hospitals every year. Some 1,000 of them are children. The average number of medical entry permits granted to Palestinians is 100,000 a year (it's the number of permits, not the number of patients, as each patient can receive several permits according to his or her condition). Since every patient is entitled to an escort, an additional 100,000 permits are granted to escorts.
As the person in charge of this system, Bassa is subject to criticism from both sides of the political spectrum. She is accused by the Right of "flooding Israeli hospitals with Palestinians," and attacked by the Left for "being part of the occupation system and the permit regime."
Bassa, however, is unfazed by the criticism. Despite her humanitarian efforts and devotion to the patients, her professional goal is actually to make the permit system unnecessary and bring about a situation in which even complicated and serious medical cases would be treated within the PA territories.
How can that be done? By improving the Palestinian health system. For that purpose, Bassa is fostering a new generation of Palestinian doctors and helping with the establishment and training of local hospitals. Moussa al-Horoub's story is a good example of how this is happening on the ground.
We meet Moussa, a three-month-old infant from Hebron, at the Hadassah Ein Karem Medical Center. He arrives for a checkup with Dr. Ibrahim Abu Zahira, a physician from Hebron who works as an intern at Hadassah. Moussa smiles serenely as he undergoes an echocardiogram. The small scar on his chest is the only evidence of the life-threatening situation he was in just three months ago, when he was born. "Every time I nursed him, he would turn blue," says his mother, Iman.
"Moussa arrived at my clinic in Hebron about two months ago," Dr. Abu Zahira recounts. "I examined him and barely felt a pulse. When I performed an echocardiogram, I noticed a birth defect. I understood he had to be operated on immediately. I called Prof. Azaria Rein, who is my professional father and has been training and helping me here at Hadassah. After he confirmed my diagnosis, I called Dalia. It was late in the evening. I already know she can be reached in the middle of the night, and that she'll pick up the phone as if it's 10 o'clock in the morning."
Bassa quickly arranged for Moussa to be transferred to Hadassah. "Dalia called us immediately," says Dirar, Moussa's father. "She obtained all the permits and organized the child's transpiration. Everything went rapidly and smoothly. It was amazing. She also came to visit Moussa immediately after the operation."
Only 15 hours had passed from the moment Moussa's defect was diagnosed until he was operated on by Dr. Abu Zahira. "It's all thanks to your swift, accurate diagnosis," Bassa praises the young physician.
Moussa's surgery cost about NIS 80,000 (roughly $22,700). After the PA turned down Bassa's request to fund the operation, the Hearts for Peace foundation entered the fray.
"We established the foundation in 2005," says Prof. Rein, head of the Department of Pediatric Cardiology at Hadassah. "The initial goal was to fund heart surgery for Palestinian kids. We found funding sources primarily in France. We negotiated with the Hadassah management, which agreed to fund half of the operations' cost. So far, we have operated on 720 Palestinian children."
The Heart for Peace foundation has another goal, Prof. Rein says, which is "to share knowledge with Palestinian teams, so that they can be independent.
"We got three young doctors who wanted to work with us as interns. While training at Hadassah, they opened their own clinics, and the plan is that in the future they'll be able to perform operations in the territories as well. The foundation helped Dr. Abu Zahira, for example, open a clinic in Hebron as well as purchase portable equipment. He turned into a sort of emergency center in Hebron, while working at Hadassah five days a week. The most serious cases he diagnoses in Hebron are brought here with Dalia's help."
A total of 174 Palestinian doctors are being trained at Israeli hospitals these days, 92 of them at Hadassah Ein Karem. The young physicians, who receive a temporary permit to work in Israel, are also part of the solution for the serious shortage of doctors in Israel. They are incorporated into the hospitals' medical staff, and they attend to Jews as well of course. Upon completing their training and after gaining experience, they go to work at Palestinian hospitals.
Dr. Wissam al-Jamal of Hebron is a gynecologist specializing in gynecologic oncology at Hadassah. "Everything I have achieved is thanks to Dalia," he says. "Thanks to my training, I was selected to be a hospital director in Equatorial Guinea in Africa. Dalia is the Palestinian Authority's gain. She is a life saver. You see her smiling now, but she doesn't sleep at night. She listens to everyone. She has given her life to Palestinians. She is an angel."
Are you planning on working at a Palestinian hospital in the future?
"Certainly, that's the goal. Palestinian and Jewish medicine cannot be separated. The people cannot be separated. I believe salvation will come from medicine. Peace will begin here, because diseases don't distinguish between religions and between languages. We doctors treat every person regardless of skin color. Each person is a person. The Israeli and Palestinian doctors, and essentially every doctor in the world, try to talk in a number of languages to create a shared language. I have a doctor's certificate just like anyone else, I am treated equally and I give the best possible treatment to every person, whether Jewish or Arab."
As a doctor in an intensive care unit, have you treated people wounded in terror attacks?
"Of course I have. Our job is to treat any person. In case of a terror attack, we treat the wounded without identifying who carried out the attack and who was hurt in it. They reach us without a name and without an ID. We run after every patient, according to their condition."
Bassa talks to Dr. Tamer Abu Jreis about an upcoming vocational in-service training, which he helped organize. "We have a very important course in emergency medicine," he explains. "The participants include 15 Palestinian doctors, 15 Israeli doctors and two doctors from Jordan. We wanted to bring doctors from Syria as well, but were unsuccessful."
This in-service training is one of 1,500 short trainings, conferences and seminars organized annually by the Health Care Coordinator Office at the Civil Administration. Bassa is the engine here too.
"I first met Dalia more than a decade ago, when I was head of the Civil Administration," says Major-General Yoav (Poli) Mordechai, Coordinator of Government Activities in the Territories. "I saw her help the Palestinian Authority build a high-quality health system, starting by coordinating the transfer of advanced medical equipment to the Palestinian hospitals to coordinating trainings for Palestinian doctors in Israel and in the world. Her dedicated activity indicates that regardless of diplomatic and political disputes, there are areas where tight cooperation is created based on personal relations and faith in humane values."
At the private Istishari Hospital in Ramallah, workers talk about doctors who did internships at Israeli hospitals. Dr. Arij al-Katib, a pathologist, is one of them. She greets Bassa with a hug, clearly excited. Bassa escorted her during her internship at Hadassah and was very proud of al-Katib for completing her training with honors.
"If there were one more Dalia, just one more Dalia, there would be peace by now," the young doctor laughs. Go tell that to the guys at the Norwegian parliament, I say to her. Maybe they'll listen to you and give her a Nobel Prize.