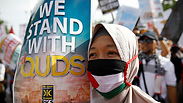 Protesters in Jakarta
Photo: Reuters
Activists burned US and Israeli flags in front of the American embassy in Jakarta on Monday in a fourth day of protests in Indonesia against President Donald Trump's recognition of Jerusalem as Israel's capital.
Several hundred protesters from an Islamic youth group rallied outside the embassy, burning flags and images of Trump and Israeli Prime Minister Benyamin Netanyahu.
Wearing white robes, the protesters unfurled banners reading "US Embassy, Get Out from Al-Quds" and "We are with the Palestinians." Al-Quds is the Arabic name for Jerusalem, the historic Middle East city that is a holy site for Jews, Christians and Muslims.
A weekend protest at the embassy attracted several thousand people and similar protests have been held in other cities around Indonesia, the world's most populous Muslim nation.
Indonesian President Joko "Jokowi" Widodo has strongly condemned Trump's move, which he described as a violation of UN resolutions.
Indonesia does not have diplomatic ties with Israel and has long been a strong supporter of Palestinian aspirations for statehood.
Trump's announcement Wednesday overturned decades of US policy, and a longstanding international consensus, that the fate of Jerusalem be decided as a part of a peace deal between Israel and Palestine.
Israeli and Palestinian claims to the city's eastern sector form the core of their conflict, and Trump's announcement was seen as siding with the Israelis.