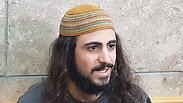 Jewish extremist Yinon Reuveni was sentenced to four years in prison on Monday after having been convicted of arson for setting fire to the Church of Loaves and Fishes, which is located on the shores of the Sea of Galilee in northern Israel.

Reuveni was also given two years of probation and ordered to pay NIS 50,000 in damages.

His lawyer, Itamar Ben-Gvir, said he intends to appeal both the punishment and the conviction.

Ben-Gvir argued his client cannot pay damages, as he is being held as a Jewish security prisoner and not allowed to leave his cell, not even to work. Judge Georges Azoulay, however, rejected that claim.

The Church of Loaves and Fishes, which is run by the Order of Saint Benedict, is considered one of the most important churches in Israel. Christians believe the church is built on the site where Jesus performed the Miracle of the Multiplication of the Loaves and the Fishes. It is a traditional site of pilgrimage in the Holy Land.

In June 2015, Reuveni and several others torched the church, causing extensive damage to two rooms and the structure's exterior. Firefighters called to the scene managed to extinguish the flames just in time to avert what could have been far more damaging as they burned just meters away from the main hall of the church itself and its wooden ceiling.

In addition to the fire, Reuveni also defaced the limestone wall with red paint denouncing the worship of idols.

Two people, a young female pilgrim and a 70-year-old man, were wounded in the blaze from smoke inhalation.

The arson led to widespread condemnation in Israel and abroad, with religious leaders of all faiths and denominations coming to Tabgha to show their support to the monks and to protest the arson.

A security video showed a Subaru vehicle near the church at the time of the arson. The same vehicle was also spotted in a gas station's security cameras in the Latrun area, with Reuveni seen filling a bottle with gasoline. The bottle was later found at the scene. Police investigators also found gloves some five kilometers away from the church with Reuveni's DNA on them.

Another defendant, Yehuda Asraf, 21, the owner of the car, was acquitted in June of charges of conspiring to commit a crime and aiding and abetting.

The Shin Bet said Reuveni and his friends belong to an ideological group seeking to "change the government and bring closer the redemption," among others things by targeting Christian sites across Israel.