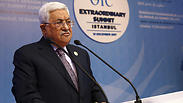 Palestinian President Abbas
Photo: AP
Muslim nations set to declare east Jerusalem as future Palestinian state's capital
Leaders and ministers from more than 50 Muslim countries gather in Istanbul after Washington's recognition of Jerusalem as Israel's capital; Erdogan: 'Israel was rewarded for all the terrorist activities it has carried out' ; Abbas: US biased in favor of Israel, UN should take charge of Mideast peace; Rouhani: US 'only seeking to secure the maximum interests of the Zionists.'
Muslim nations rejected US President Donald Trump's "irresponsible, illegal and unilateral" declaration of Jerusalem as the capital of Israel, and appear set to counter it on Wednesday with a declaration of east Jerusalem as the capital of a future Palestinian state.
In a draft communique distributed to reporters, the 57-member Organization of Islamic Cooperation said the US decision was "null and void legally" and is considered an attack on the rights of the Palestinians.
Trump's decision, the Muslim leaders said, "is deliberate sabotage of all efforts to achieve peace, feeds extremism and terrorism and threatens global peace and security."
The draft communique said the bloc considers the US declaration as an "announcement of the US administration's withdrawal from its role as sponsor of peace."
OIC leaders meeting in Istanbul were expected to release a final statement later Wednesday.
Speaking at the conference earlier in the day, Turkish President Tayyip Erdogan called on world powers to recognize east Jerusalem as the capital of Palestine and said the United States should reverse its "awful and provocative" decision.
"I invite all countries supporting international law to recognise Jerusalem as the occupied capital of Palestine. We cannot be late any more," Erdogan said.
"The process to include Palestine in international agreements and institutions should be sped up," he added.
A similar call was made by the OIC's secretary-general Yousef bin Ahmad Al-Othaimeen, who said the US decision was "an exceptional challenge" facing Muslim nations. The decision, he added, will fan violence in the region, giving extremists an excuse to sow chaos.
Erdogan described Trump's decision last week as a reward for Israeli actions including occupation, settlement construction, land seizure and "disproportionate violence and murder."
"With this decision, Israel was rewarded for all the terrorist activities it has carried out. It is Trump who bestowed this award even," Erdogan said. "Israel is an occupying state (and) Israel is a terror state," he added.
Turkey has said Trump's decision to recognize Jerusalem as Israel's capital would plunge the world "into a fire with no end," and called an emergency summit of the world's main pan-Islamic body, the Organization of Islamic Cooperation, to urge Washington to change course.
Abbas urges UN to take US place as peace mediator
In an impassionate speech, Palestinian President Mahmoud Abbas said the Palestinians won't accept any role for the United States in a peace process with Israel "from now on," as it was biased in favor of Israel.
The speech marked a significant shift in Abbas' approach toward the United States, after years of focusing on courting US goodwill because of Washington's role as sole mediator in the Israeli-Palestinian conflict.
Immediately after Trump's announcement last week, Abbas had said the US effectively disqualified itself as a broker, but Wednesday's speech was more sharply worded and delivered to a global audience. It was also part of a speech that called on the gathering for specific steps to counter the US decision on Jerusalem.
"We call that the (peace) process in its entirety be transferred to the United Nations," Abbas said.
He also called on countries that believe in the two-state solutions to recognize Palestine as a state, and urged Arab and Muslim nations to financially support east Jerusalem.
In his over-an-hour-long speech, Abbas also urged Muslim nations and countries with relations with Israel to take necessary political and economic measures against Israel "to force it to abide by international consensus" to end its occupation of Palestinian territories, including east Jerusalem.
He slammed the recognition by Trump of Jerusalem as the capital of Israel as a "gift" to the "Zionist movement" as if he "were giving away an American city," stressing that "Jerusalem is and always will be the capital of Palestine."
Abbas urged those who recognize Israel to reconsider, saying the Jewish state has not committed to any international resolution.
"There are laws applied to Israelis, and different laws applied to Palestinians. It is apartheid, can the world accept a new apartheid regime, 30 years after the end of apartheid in Africa South?" he wondered.
Branding Trump's move as the "greatest crime" that threatens world peace and a flagrant violation of international law, Abbas noted the international community has nearly unanimously opposed the decision, calling it a "provocation" to Muslim and Christian sentiments.
Abbas warned extremists could use Trump's decision to "turn a political struggle into a religious one."
Instead, he said the US decision on Jerusalem should galvanize Arab, Muslim and Christian support for the city and that it seeks to change the identity of the divided city, which is home to some of the most sacred Muslim sanctuaries.
The Palestinian president also said the Palestinians are mulling withdrawing from international bodies in protest of Trump's decision, and that they will "go to the United Nations Security Council" seeking full UN membership.
Rouhani: US only wanted to secure Zionists' interests
Iranian President Hassan Rouhani said the only reason Trump "dared" recognize Jerusalem as the capital of Israel was because some in the region sought to establish ties to Israel—a stab at Tehran's archrival Saudi Arabia.
Rouhani called on all Muslim countries to resolve their internal disputes through dialogue and unite against Israel, saying Israel had planted seeds of tension in the crisis-hit region.
"Iran is ready to cooperate with all Muslim countries without any precondition to defend the legitimate rights of Palestinians," Rouhani said.
"Unity among Muslim countries is very important and Quds (Jerusalem) should become our top priority."
Ahead of his speech, Rouhani took to Twitter to charge that the Jerusalem move shows the United States lacks any respect for the legitimate rights of the Palestinian nation.
He added the move also showed the US was not "an honest mediator and will never be," because Washington "is only seeking to secure the maximum interests of the Zionists."
King Abdullah of Jordan rejected any attempt to change the status of Jerusalem or its holy sites, and said peace would not come to the region without a resolution of the Israeli-Palestinian conflict.
"All violence... is a result of a failure to find a peaceful solution to the Palestinian issue," he said.
Saudi sends low-level representative
The meeting of leaders and ministers from more than 50 Muslim countries takes place a week after US President Donald Trump's announcement on Jerusalem, which triggered widespread protests in the Middle East and Islamic world.

"Firstly, the Palestinian state must be recognized by all other countries. We must all strive together for this," Turkey's Foreign Minister Mevlut Cavusoglu said in opening remarks to a pre-summit meeting.

"We must encourage other countries to recognize the Palestinian state on the basis of its 1967 borders with east Jerusalem as its capital."

Cavusoglu said the OIC nations "are here to say 'stop' to tyranny," telling the gathered representatives that the US decision aims to "legitimize Israel's attempt to occupy Jerusalem."

"They expect the Islamic nation to remain silent," he said. "But we will never be silent. This bullying eliminates the possibility of peace and the grounds for shared life. The US' decision is null for us. "

Jerusalem, revered by Jews, Christians and Muslims alike, is home to Islam's third holiest site and has been at the heart of the Israeli-Palestinian conflict for decades.

Cavusoglu said this week Turkey would not call for sanctions in response to the US move, but would appeal for all countries that have not formally recognized Palestine as a state to do so, and to issue a strong rejection of the US decision.

He said the summit would declare east Jerusalem as the Palestinian capital and call for Israel to withdraw from territories it captured in the 1967 Six-Day War. Israel later annexed east Jerusalem in an action not recognized internationally.

Bridging the gaps in a Muslim political community that includes arch rivals Sunni Saudi Arabia and Shiite Iran will be a far from easy task, let alone announcing any concrete sanctions agreed between the 57 OIC member states.

Furthermore, several key players, like Egypt, Saudi Arabia and the United Arab Emirates, are unlikely to want to risk their key relationship with Washington for the sake of an OIC statement.

Lebanese President Michel Aoun and Sudanese President Omar al-Bashir, who is wanted by the International Criminal Court for genocide and war crimes, were also in attendance, as well as the emirs of Qatar and Kuwait.

However the level of Saudi representation—critical if the final statement is to carry long-term credibility—was only at the level of a senior foreign ministry official.

Cavusoglu said in a television interview that the summit would "give a strong message."

But he acknowledged that some Islamic countries were "in fear", asking, "Why are you scared?"

In an emergency meeting in Cairo last weekend, Arab foreign ministers demanded that the United States rescind Trump's decision to recognize Jerusalem as Israel's capital.

In a resolution long on rhetoric but short on concrete actions, the ministers also called for the UN Security Council to adopt a resolution condemning Trump's decision, but acknowledged that Washington would most likely veto it.

The Trump administration says it remains committed to reaching peace between Israel and the Palestinians and its decision does not affect Jerusalem's future borders or status.

It says any credible future peace deal will place the Israeli capital in Jerusalem, and ditching old policies is needed to revive a peace process frozen since 2014.

Reuters, the Associated Press and AFP contributed to this report.