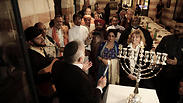 Bahrain visit to Israel
Photo: AP
Bahrain interfaith group pays unprecedented visit to Israel
Participants included Sunni, Shiite Muslims, Buddhists, Christians, Hindus, Sikhs, as guests of Simon Wiesenthal Center; trip was nonpolitical, unconnected to Bahrain government; visit comes at a time when Israel is boasting of warming, covert, ties with moderate Arab countries in shared front against Iran.
An interfaith group from the Gulf state of Bahrain is paying an unprecedented public visit to Israel this week, receiving a warm welcome but generating uproar across the Arab world.

The visit comes at a time when Israel is boasting of warming, albeit covert, ties with moderate Arab countries in a shared front against archrival Iran. But the heavy criticism unleashed on Arab social media, along with the low profile the group has taken, shows the limits on how far that goodwill can go.

The 25 participants, who include Sunni and Shiite Muslims, as well as Buddhists, Christians, Hindus and Sikhs, flew to Israel on Sunday as guests of the Simon Wiesenthal Center, a US based Jewish human rights group. The group gathered Tuesday at a restaurant overlooking Jerusalem's Old City walls for dinner and a candle-lighting ceremony marking the first night of the Jewish holiday of Hanukkah.

While organizers and participants said the three-day trip was nonpolitical and unconnected to the Bahrain government, it nonetheless is a possible test case for other Gulf Arab nations in seeing what could happen if they move toward recognizing Israel.

"People have been asking us, 'Oh why have you been here now, after there was an announcement made by the White House,'" Betsy Mathieson, president of This is Bahrain, told The Associated Press, referring to President Donald Trump's declaration last week that Jerusalem is the capital of Israel. The move enraged the Palestinians, who seek the city's eastern half as capital of a future state.

"We have nothing to do with politics," insisted Mathieson, a dual British-Bahrain national who has lived in Bahrain for 37 years.

But the early results seem decidedly mixed.

Shortly after the group arrived, it was forced to issue a statement on the state-run Bahrain News Agency that it "does not represent any official entity" in Bahrain after an uproar erupted on social media. People were especially angry that the visit came so close to Trump's declaration on Jerusalem.

Throughout their time in Israel, the group, about half of whom are Bahrain citizens and the rest people of other nationalities who live in the Gulf nation, avoided the spotlight. Several Bahrainis chose not to attend Tuesday's dinner, and those who did either refused to speak to the AP or did so only if they weren't identified.

One Bahraini woman said she didn't care about Trump's proclamation, "because I am not a political person." She said that unlike most Bahrainis, she sees no issue with Israel and Bahrain establishing bilateral relations, and would visit Israel again if the opportunity arose.

"If there's a chance, why not?" said the woman, who like others demanded anonymity because of the controversy surrounding the visit. Earlier in the day, she prayed at Jerusalem's Al Aqsa Mosque, which she described as "a dream."

Rabbi Abraham Cooper, associate dean of the Simon Wiesenthal Center, said the fact that the group arrived, defying expectations that they would cancel because of Trump's move on Jerusalem, "speaks volumes."

"We're looking for the normalization. We're not waiting for politicians, and we're going to try to stick to that narrative," he said.

Israel and Bahrain do not have diplomatic relations, although Bahrain's King Hamad is rumored to be weighing an end to his country's boycott of Israel as the two countries nurture covert ties.

Bahrain and other Sunni Arab states see themselves as sharing regional interests with Israel when confronting Shiite power Iran. Israeli Prime Minister Benjamin Netanyahu has repeatedly touted Israel's warming ties with Gulf Arab states in recent months. On Sunday, Netanyahu asserted that "many of the Arab countries now recognize that Israel is not their enemy but their indispensable ally." This shift, he said, "could help pave the way to an ultimate peace between us and our Palestinian neighbors and between us and the rest of the Arab world."

Netanyahu acknowledged last week that Israel won't be able to sign peace treaties with the Arabs without a deal on the Palestinians, but also implied that ties have already been established and have plenty of room to grow. "Peace treaties, no. Everything else below that, yes, and it's happening," he said just hours before Trump's declaration on Jerusalem.

The island nation of Bahrain, east of Saudi Arabia in the Persian Gulf, has long been seen as more liberal than its larger neighbor, but has faced major criticism in recent years for how it put down its 2011 Arab Spring protests with the help of the Saudi kingdom and the United Arab Emirates.

The tiny state is ruled by a Sunni king but has a majority Shiite population. According to the Bahraini government, 70% of the population is Muslim and the remainder adheres to various faiths.

Shiites and others demonstrated in 2011 seeking more political freedoms. An official investigation found the government demolished 30 Shiite religious structures following the demonstrations, ranging from mosques to meeting halls and shrines, as part of a broader crackdown on dissent.

Bahrain is home to a small Jewish community, but no members of the community took part in the trip.