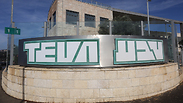 Teva factory in Jerusalem
Photo: Gil Yohanan
Histadrut threatens major strike to protest Teva cuts
Half-day strike Sunday in protest of Teva decision to cut 3,300 jobs set to include banks, public transportation, airport, health clinics and municipal services; Nissenkorn demands government finds solution to crisis, accuses directors of company who benefited from tax write offs: 'they pocketed millions while workers pay the price.'
Chairman of the Histadrut Labor Federation Avi Nissenkorn declared Wednesday that the union will hold a half-day strike Sunday as a preliminary step in their protest over Teva Pharmaceuticals' decision to cut its workforce in half, leaving some 3,300 people unemployed.

"On Sunday, we will first shut down all of Teva's factories," Nissenkorn said at a special press conference in Tel Aviv. "The entire economy, banks, municipalities, public transportation, and health clinics—all will strike till noon in solidarity."

"I sense cold indifference, to cut, to fire, to see only figures—and we will not allow it. Sunday, we will commence solving this problem," said Nissenkorn.

The strike will affect the railways, hospitals, and Ben-Gurion International Airport. Due to Hanukkah vacation, the strike will not affect the education system.

Teva Pharmaceutical Industries plans to sell or close most of its holdings in Israel. The board recently agreed on the new cuts in which the company will fire half of its workforce.

Nissenkorn said that Teva, "the flagship of Israeli industry," is turning into a symbol of "the destruction of Israeli industry right before our eyes."

"Teva, which was founded with Israeli minds and on a product of the Weizmann Institute of Science, is abandoning its founding principles," he said. "The founders must be turning in their graves... Thousands of families depend on Teva. They can't sleep at night, what will they tell their children?"

Nissenkorn accused the directors of the company for the crisis: "They entered into failed business deals… They pocketed hundreds of millions of shekels… And the workers have to pay the price."

Nissenkorn demanded of the government to find a solution to the crisis: "Teva has benefited NIS 22 billion in tax write offs since 2006. The company knew how to take and is now turning its back on the state and its citizens."

Teva workers attending the press conference expressed hopes that "Nissenkorn will shut down the economy as it is outrageous that thousands of families will suffer while (the directors) take home state funds."

Haim Amzaleg, an employee at a Teva plant in Ne'ot Hovav told Ynet: "I have been at this plant 16 years… people here have nowhere to go. The jobs situation here in the south is abysmal. I expect of all relevant parties, including the government, to interfere. It can't be that (the company) receives 20 billion in grants without any guarantees for the workers… the government is responsible for them all."

At Teva's northern plant, in Kiryat Shmona, its 269 workers have been experiencing weeks of anxiety over the reports of the cuts and reports the company is seeking a buyer for the plant. The uncertainty and lack of concrete information are the most difficult to bear. "It is difficult to work like this because there is so much fear and anxiety about our future," said Meir Ben Elul, director of the plant's workers committee.